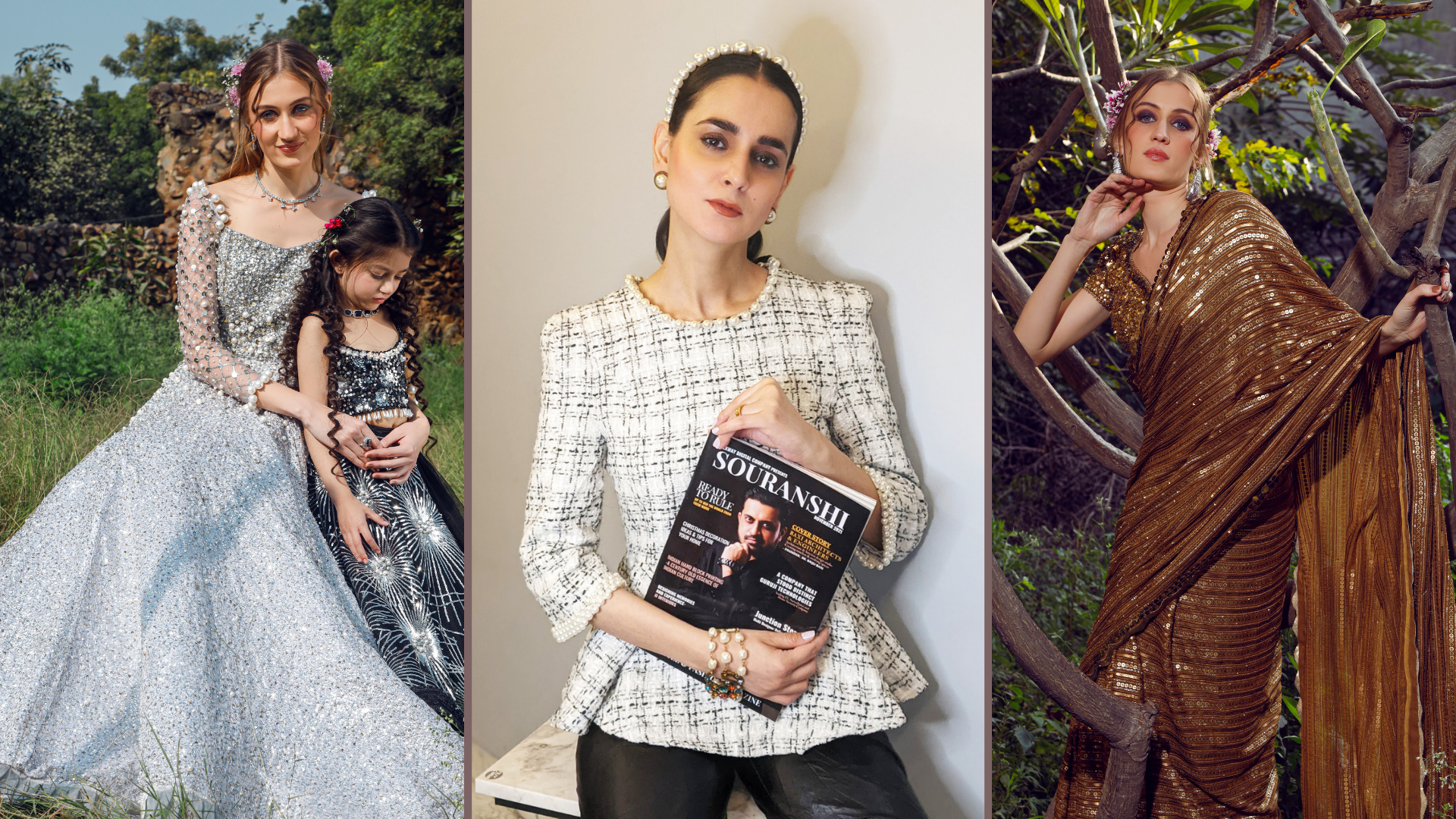 Insanely Awesome Luxury Womenswear You Have To Try In 2022 | Nitya Bajaj
Nitya Bajaj's Luxury Womenswear Collection – Sparkly and Luxe
Insanely Awesome Luxury Womenswear Founder Nitya Bajaj. 
An Indian fashion designer label based out of New Delhi, India, Nitya Bajaj is known for her Luxury womenswear and Kidswear. Run by it's one-woman-army, Nitya Birla, 36 years,Nitya Bajaj celebrates womanhood.
NBminiture is the kidswear collection by the brand for all occassionwear solutions for little fashionistas. The most popular segment of 'MiniMe' is where the brand creates twinning outfits for the mommy-daughter duo.
Dazzle 2022 is the latest launch by the brand loaded with it signature sequin, crystals and pearls.
You can visit the world of Nitya Bajaj at www.nityabajaj.com Luxury Womenswear 
NITYA BAJAJ was born in 2011 in a quaint village of shahpurjat, New Delhi. Deep within the dusty alleys of this upcoming fashion hub, Nitya, a NIFT graduate in Fashion Design, spilled epiphany that compelled her to discard conventional fashion design and explore eveningwear in a new dimension with artisanal craftsmanship.
Based out of New Delhi, Nitya Birla specialised in womenswear. Post her graduation, she worked with Orient Craft, one of the leading export houses and Kimaya- a multi-designer fashion chain. Enthused with her passion for fashion, Nitya acquired experience from designers like Ankur and Priyanka Modi.
Being one of the finalists at Let's Design1 by Cotton council International and The Debut by Wills ,Nitya was encouraged to set up her own label in 2012.
The label represents multicultural, multifaceted lifestyles of women today, who believe in elegant, luxurious, timeless pieces of art as clothing.
Nitya and her work has been covered by ace fashion magazines like Vogue, Cosmopolitan, Bride's Today, Elle to name a few. Illustrious league of celebrities like Sonam Kapoor, Sonakshi Sinha, Jacqueline Fernandez, Kajol and Nysa Devgn, Khushi Kapoor, Kalki Koechlin, Neha Dhupia, Kriti Kharbanda, Ahana Kumra, Gauhar Khan, Amala Paul, Celina Jaitley, Amy Jackson and Parineeti Chopra to name a few have adorned her luxe designer clothing.
She had been awarded as the Most Enterprising Woman of the Year 2020 by Ministry of Small and Medium Enterprise MSME by Government of India and Woman Entrepreneur of the year 2019 by Women Economic Forum,WEF. Also winner of the Influential Women of the Year Award 2018 by ISOE, Nitya is an active panelist and Jury member amongst various Fashion institutes like NIFT, National Institute of Fashion Technology, JD institute of Fashion and Amity University to name a few.
Nitya studied Fashion from NIFT (National Institute of Fashion Technology), New Delhi and is a Certified Fashion and Apparel designer specializing in Luxury Womenswear and Kidswear. She was recently acknowledged for her fight against the pandemic 2020 by Shri Nitin Gadkari, Government of India on the special occasion of Women's Day.
Dazzle by Nitya Bajaj
Dazzle by Nitya Bajaj is the latest launch by the brand for festive season 2022.
Carrying forward the success of Sprinkle 2018-19, Sparkle 20-21, Dazzle arrives with it glamour.
Inspired by the dangling stars and their constellations, this one is a high dose of glitz with sequins, crystals, beads and pearls juxtaposed together in a celebration.
Perfect for the current festive season, this one is a perfect solution for all brides-to-be looking at sparkly luxe gowns and lehengas for their special day.
You cannot miss Dazzle kidswear under the NBminiature section on their website catering to designer kidswear.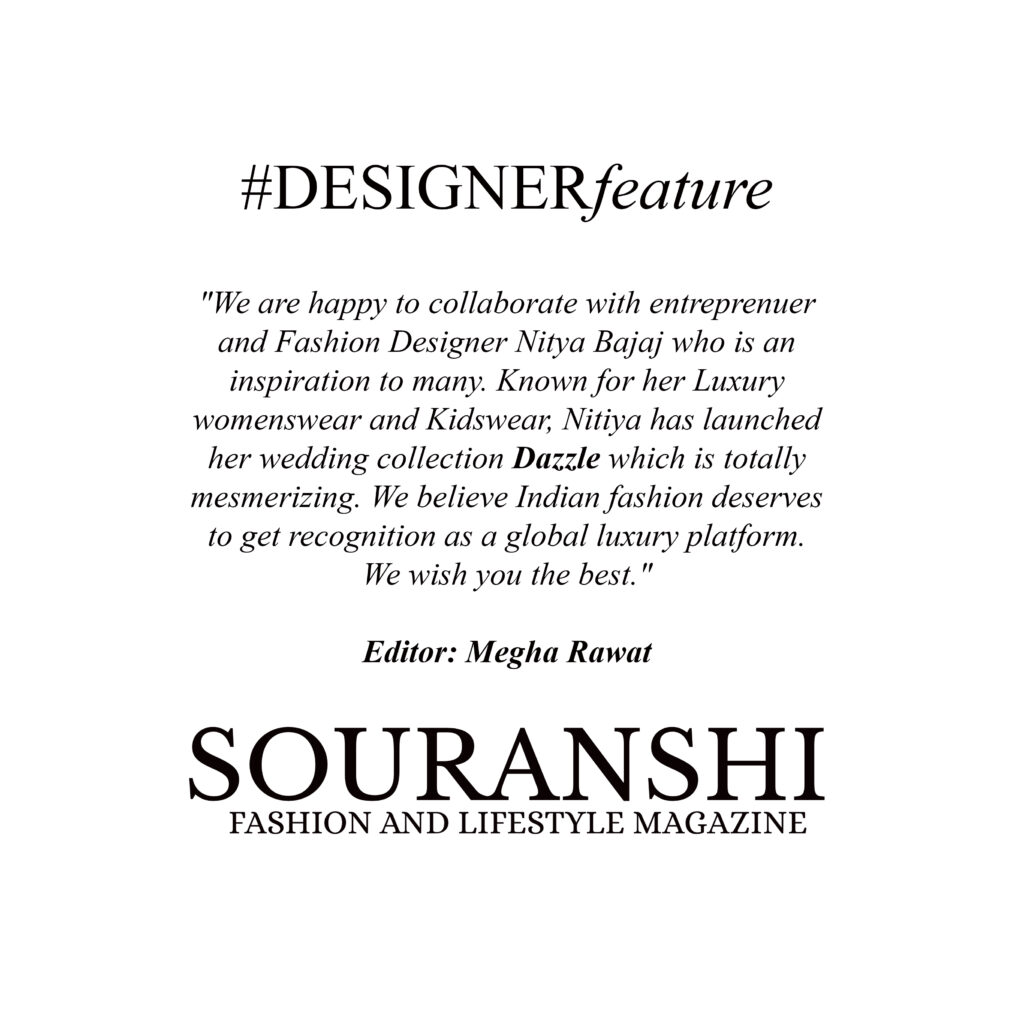 NITYA BAJAJ Debut Show Lakme Fashion Week 2012  
NITYA BAJAJ presentation at Lakme Fashion Week 2018 in association with NEXA.
NITYA BAJAJ fashion show at Pune Fashion Week by ABIL and Rajasthan Fashion Week where the designer, Nitya Birla closed the show with Gauhar Khan and Bruna Abdulah
NITYA BAJAJ fashion show at Delhi Times, India Showcase Week where the designer, Nitya Birla closed the show with celebrity, actor, Filmmaker Divya Khosla Kumar, T-series in association with PC Jewellers.
NITYA BAJAJ private showcase at Saket, New Delhi, where the designer closed the show with showstopper Eli Avram.
Designer Participated at Let's Design competition by The Cotton Council International and The Debut.
Showcased an exclusive collection marking the launch of it's E-Commerce portal with Jabong Online Fashion Week where the designer closed the show with eminent bloggers from the city