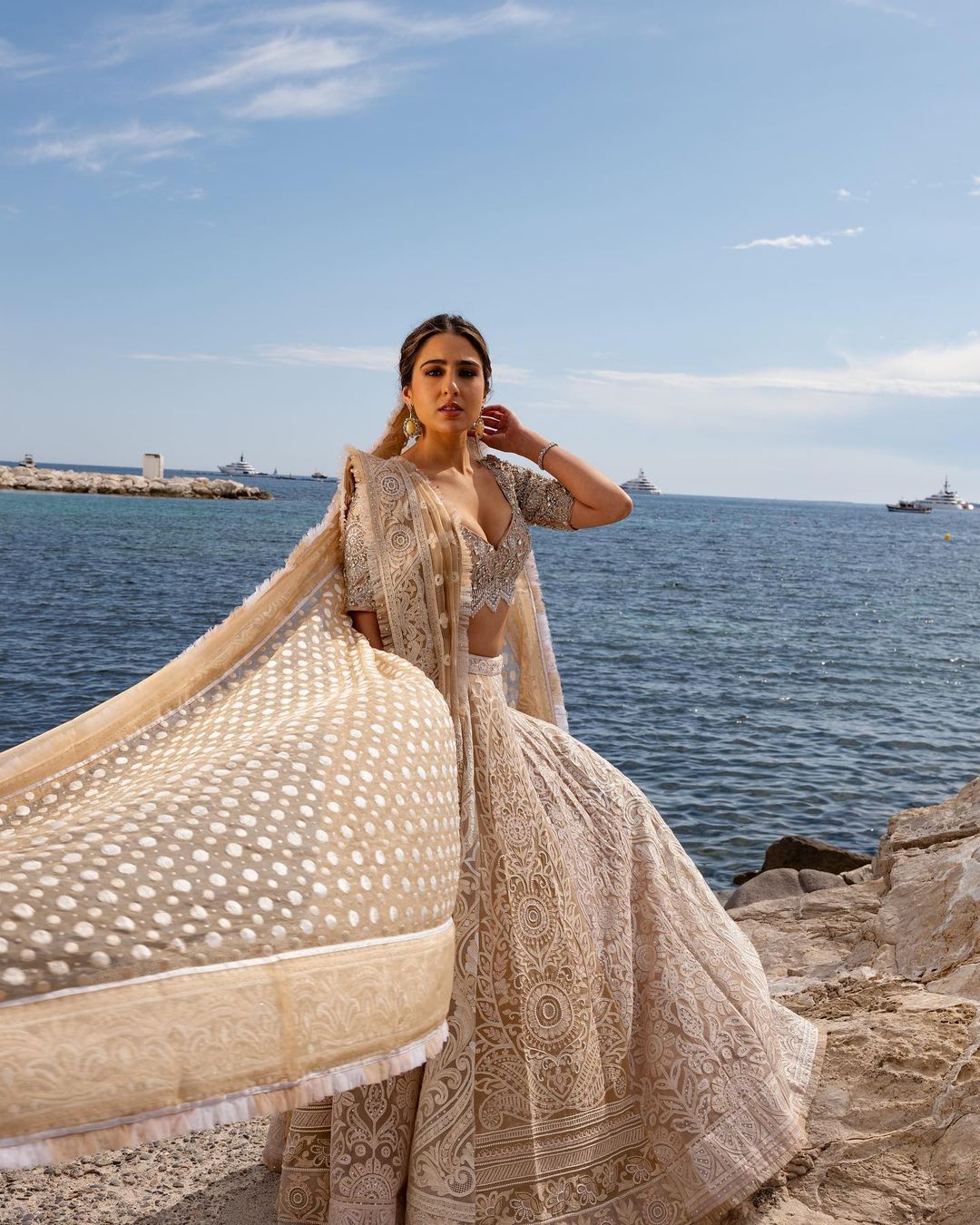 Sara Ali Khan Proves that Indianness is the New Fashion Trend at Cannes 2023
Bollywood actress Sara Ali Khan made her highly-anticipated red carpet debut at the 76th Cannes Film Festival in 2023. Representing Indian culture on an international platform, the actor went for a desi way with an off-white lehenga at the opening ceremony of the Cannes market.
Sara Ali Khan, the young Bollywood actress, made her debut at the prestigious Cannes Film Festival this year. The actress looked stunning in a custom-made attire designed by Indian fashion designer Abu Jani-Sandeep Khosla. Her appearance at the film festival was much talked about, and she received a lot of appreciation for her fashion sense.
Sara, who has been making waves in the Indian film industry since her debut in 2018, expressed her excitement at being able to represent her country on such a prestigious international platform. In an interview with reporters, she said, "I've always been proud of my Indianness and to be able to showcase that at Cannes is truly an honor."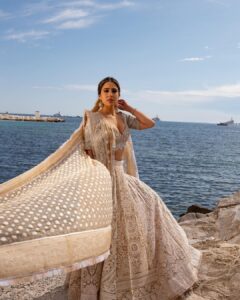 The actress, who has been known for her outspokenness on social issues, also spoke about the importance of representation and diversity in the entertainment industry. "It's crucial that we have more voices and perspectives from all around the world," she said. "Only then can we truly appreciate the beauty and richness of different cultures."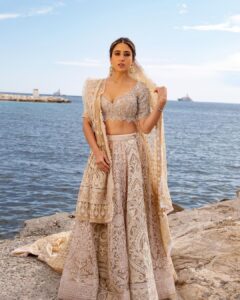 Sara's red carpet appearance at Cannes 2023 was not only a momentous occasion for the actress but also for the Indian film industry as a whole. It marked a significant step towards greater global recognition and acceptance of Indian cinema.
As the night went on, Sara mingled with other international stars and attended various events and screenings. She also took to social media to share her experience with her fans, posting photos and videos of herself enjoying the festivities.
Overall, Sara Ali Khan's red carpet debut at Cannes 2023 was a resounding success. She not only looked stunning but also represented her country with grace and pride. We can't wait to see what other exciting opportunities lie ahead for this talented young actress.
Apart from her Cannes debut, Sara Ali Khan is currently busy with the promotions of her upcoming romantic comedy 'Zara Hatke Zara Bach Ke' in collaboration with Vicky Kaushal. The movie is highly anticipated and is expected to be a box office hit. The chemistry between the lead actors has already created a buzz among the audience.
Besides 'Zara Hatke Zara Bach Ke', Sara Ali Khan is also involved in several other projects. She will be seen in 'Ae Watan Mere Watan', an upcoming patriotic movie that is directed by Jagan Shakti. The movie is expected to be a tribute to the Indian armed forces and their sacrifices for the country.
Sara Ali Khan is also working on an untitled project directed by Jagan Shakti. The details of the movie are still under wraps, but it is expected to be a big-budget production with an ensemble cast.
Another exciting project that Sara Ali Khan is a part of is Homi Adjania's 'Murder Mubarak'. The movie is a dark comedy and will see Sara in a completely different avatar. The movie also stars Irrfan Khan and Radhika Madan in lead roles.
Sara Ali Khan has been making waves in the Bollywood industry since her debut in 2018. She has already worked with some of the biggest names in the industry and has impressed everyone with her acting skills. Her dedication and hard work have made her one of the most sought-after actresses in Bollywood.