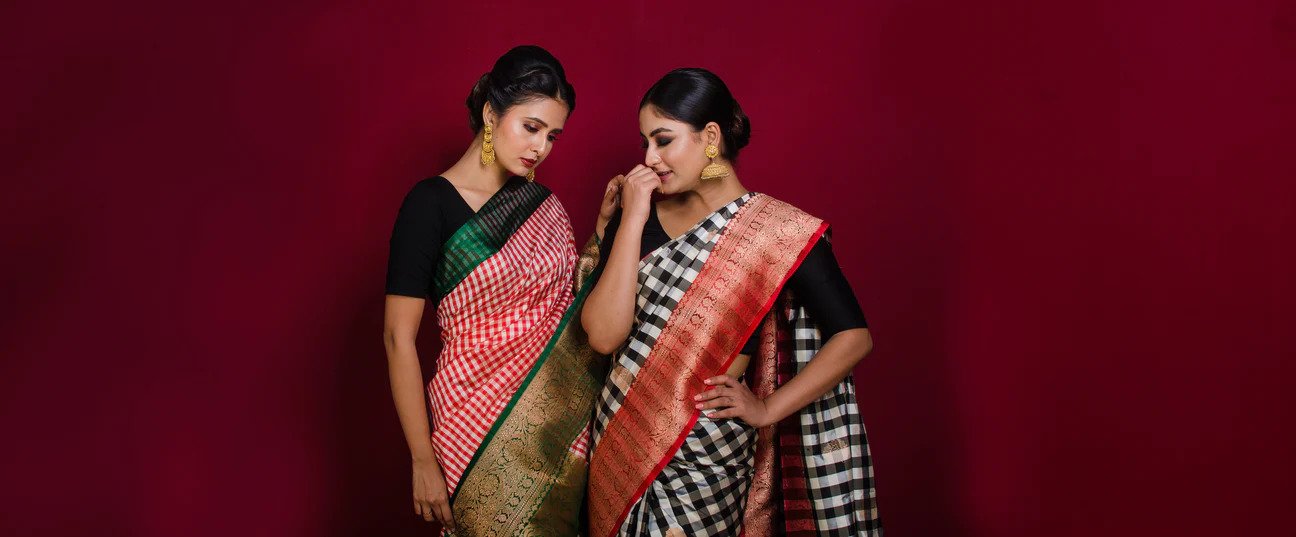 Bengal Looms | Indian Handloom Women's Wear | The Traditional Indian Elegance
Bengal Looms is a USA-based online store specializing in Indian Handloom women's wear including Saris, Dupattas, Kurtis, Nightwear, and Handmade Jewelry. Promoting the concept of Made-In-India while selling Indian products in the USA, Bengal Looms supports Indian weavers and artisans as well. In 2015, the Bengal Looms saree business started with a single website and now they have stores across various social platforms and Etsy.
Bengal Looms' mission is to bring Indian Ethnic Wear to the international community around the world at affordable and reasonable pricing and in the process promote 'Made-In-India' handlooms globally to give Indian weavers a broader exposure to the world. We sell products across a wide variety of price ranges", says Payal Dutta, the owner and the founder of Bengal Looms.
Solely owned by Payal Dutta, Bengal Looms is a three-generation old extended family business, and the anecdote of its origin starts in the year 2005, shortly before Payal moved to Edison, New Jersey, the USA with her husband post their marriage.
Payal grew up with some knowledge of the saree business. "My family has been in the saree business for three generations. My Grandfather and father started with a local saree shop called 'Ruplekha' in Kolkata sourcing a variety of Handloom Sarees from several small-scale saree weavers in Bengal" she says.
In 2010, Payal went on to create a social media account on Orkut envisioning the global presence of the business and showcasing the ancestral business from back in India.
With the cessation of Orkut in 2014, she realized the need for a broader platform and ampler online presence to provide convenient shopping experience to clients especially in North America.
"I was well-settled in the USA and I felt I could introduce the products beyond the shores of India. With this thought process, I came up with the idea of "Bengal Looms" in 2015 to showcase products of Bengal to the Indian diaspora in the USA and Canada.", she says.
Payal started with a mere capital of $500 and within a year the business grew beyond just Bengal products.
"I then introduced products from Banaras, Kanchipuram, Gujarat, Assam, etc. to promote weavers from all over India.", she adds.
Bengal Looms offers a wide range of Sarees from various parts of India including Bengal Handlooms, Banarasi, Kanjivaram, Orissa Saree, Assam Saree, and Cotton Saree, Linen Saree, Silk Sarees, Party Wear Saris, Kurtis, Cotton Nightwear, Dupattas, Shawls, and Hand Made Jewelry.
In 2017, a sister company "Bengal Looms India" was formed with a vision to increase the international presence of the company. Based in Kolkata, this new venture is supervised by Payal's brother and thrives to build a selling platform based in India that can ship the products across the globe.
Being a family-owned business, promoting the company and advertising its products is Payal's and her husband's responsibility. An IT professional, Payal's husband takes care of all the SEOs of the website, Google Ads & Analytics accounts, etc. while Payal takes care of all the advertising on social media platforms in addition to her curating the procurement of the products and its sales.
The founder strives to give the best shopping experience to each client and believes in 4 business principles that make customers have a great buying experience every time they visit. "We build trust by providing a true insight into each garment; Ensure the best quality by letting the product go through tested quality-check processes; Offer competitive selling price, and we have a competitive fast delivery advantage as we are not a reseller or a drop shipper but a direct selling business.", Payal explains.
She further says that if a customer is not satisfied with a purchase for any reason, the company provides a return or exchange for 7 days since the receipt of the item. "We have a ready access helpline via phone or WhatsApp or email to reach out and discuss any concerns regarding delivered
Bengal Looms started with just sarees for women but now they are expanding into other women's wear and planning to foray into Men's wear, Kids wear, and various other hand made products by artisans of India in near future.
Unlike other online apparel selling brands, Bengal Looms is a non-reseller. Running successfully for three-generation with its own weavers across India puts the company in a unique position to provide quality products at reasonable prices with very fast deliveries. "We are a registered USA business with industry-grade payment gateways to ensure a secure checkout process and confidence in what customers are purchasing. Every product we sell is backed by our customer service quality guarantee. Experience the one of a kind trustworthy shopping adventure in the world of traditional Indian handlooms at Bengal Looms!!!", Payal concludes.