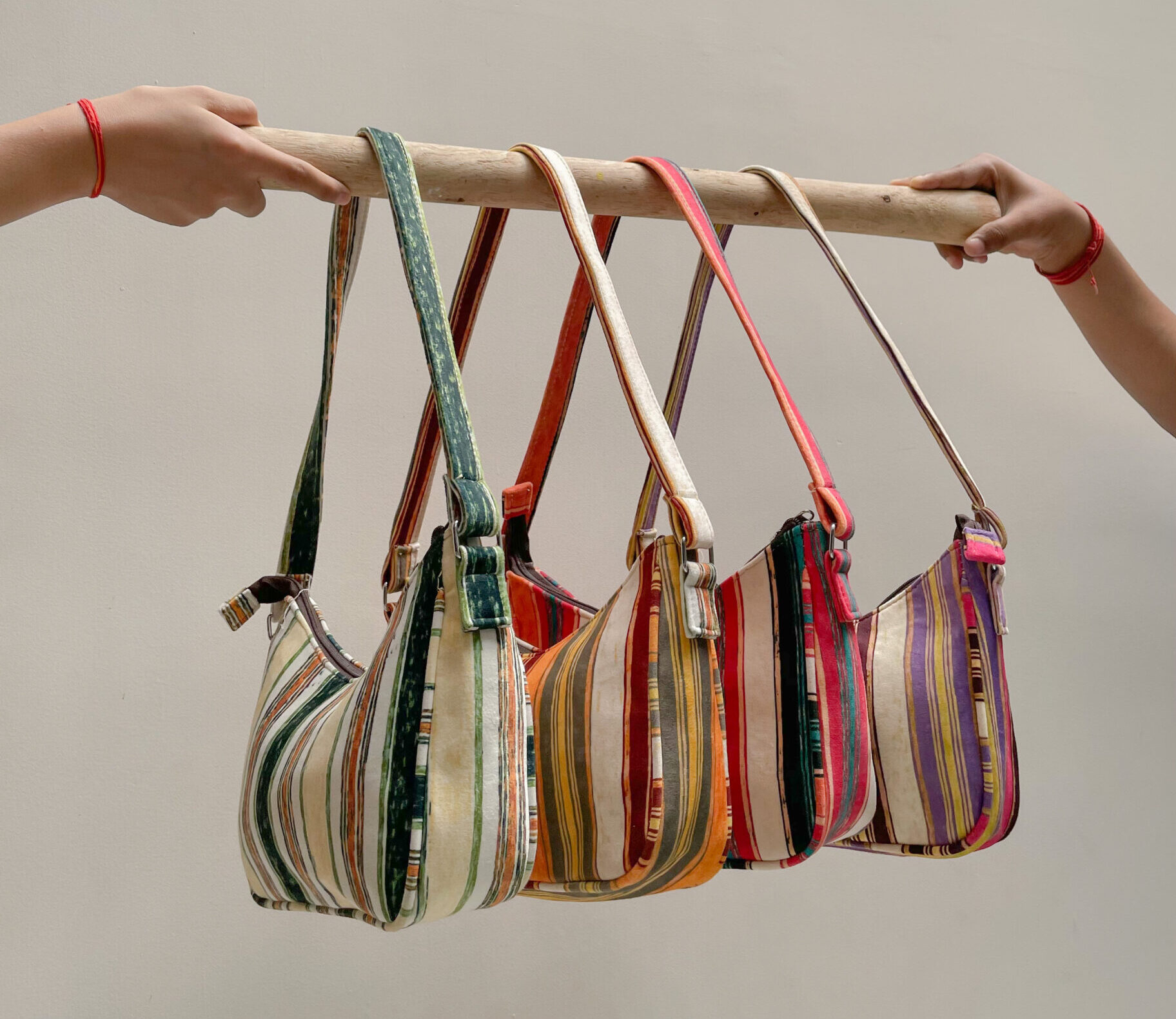 Bags and Purses for Women | Carrying the Legacy Beyond Bags |
"My only focus and dream in life are to make my parent's proud and work extremely hard to make Sheyam a big label, and along with it take my parent's name to greater heights", says Charvi Agarwal, the founder of Sheyam.
Like any parents who wish to name their child after the person they love and respect, Charvi also wanted to name the brand after the people she loves the most; the people who have always been a great support system for her and everything she has ever wished to achieve in her life. Her Parents. "SHEYAM is a ship named after my father Ghanshyam Agarwal and my mother Sheetal Agarwal, my pillars of strength", Charvi says.
Based in Jodhpur, Rajasthan, the brand was launched on 17th Oct 2020 and deals in all kinds of bags and clutches. When the Pandemic knocked, Charvi, 22, found herself without any work. Like always, she shared her concerns with her father and that's when she came up with the idea of selling bags. "During that discussion,
I came to know about our family's connection with bags. My Grandfather, Late Shri Magician Ram Bilas Agarwal, used to deal in the trading and manufacturing of handbags. He had a thorough understanding of materials and fabrics. I decided to carry on his legacy and that's how Sheyam came into existence", Charvi unfolds the idea behind Sheyam.
Before becoming an independent entrepreneur, Charvi had worked with the Lakme Fashion week team as a volunteer, and she has also received accolades in the art and designing fields. "The experiences from my education and volunteering for the Lakme team and my inclination towards arts and design have enriched my awareness of bag business", she explains.
Sheyam, an online shopping brand, is accessible to customers across the nation and the company is planning to expand it to the international market.
Charvi started promoting the bags designed by her on social media accounts which was the original promotion plan and the only source of marketing she had access to.
"Initially, we marketed our products only on social media platforms like Instagram, Facebook, and WhatsApp", Charvi reminisces the startup story. "The brand and our products received a wonderful response and within a few months we started selling our products on different E-Commerce platforms."
Operating from a studio set up in Jodhpur, Sheyam now participates in and organizes several exhibitions to promote the brand.
A seller of a wide variety of bags, the brand hires labor from different places in the state of Rajasthan who handcraft the bags that are designed by Charvi. "We believe to employ local people who are unemployed and have basic knowledge about our
Charvi "As of now, we have hired only two full-time workers and we also hire a few women who work from their homes and are specialists in hand embroidery, stitching, cutting, Apart from employing the labor class, Charvi strives to achieve the best quality in the bags manufactured at Sheyam. She believes that the quality of any product is one of the most important factors for customer acquisition and customer satisfaction which is important for the brand. "Customer satisfaction is the most important thing for a brand to become successful", she asserts. "We ensure that we understand customer's expectations. Without satisfied customers, we will not have customer loyalty, without customers' loyalty, we won't have long team relationship with our customers", she adds.
Speaking further on the quality of bags, Charvi says, "We ensure the best quality during production. In case any customer is unsatisfied, we take the necessary steps to identify the issue and work on better communication between the brand and customers."
Sheyam believes in creating the newest styles with the best quality materials at reasonable prices and making them accessible for everybody.
"We have always favored quality over quantity and we aim to build a brand name and loyal customers over anything else. Sheyam's bags are meticulously handcrafted by skilled workers and are suitable for every occasion. Once you shop with us you will definitely come back again!!", Charvi concludes firmly.