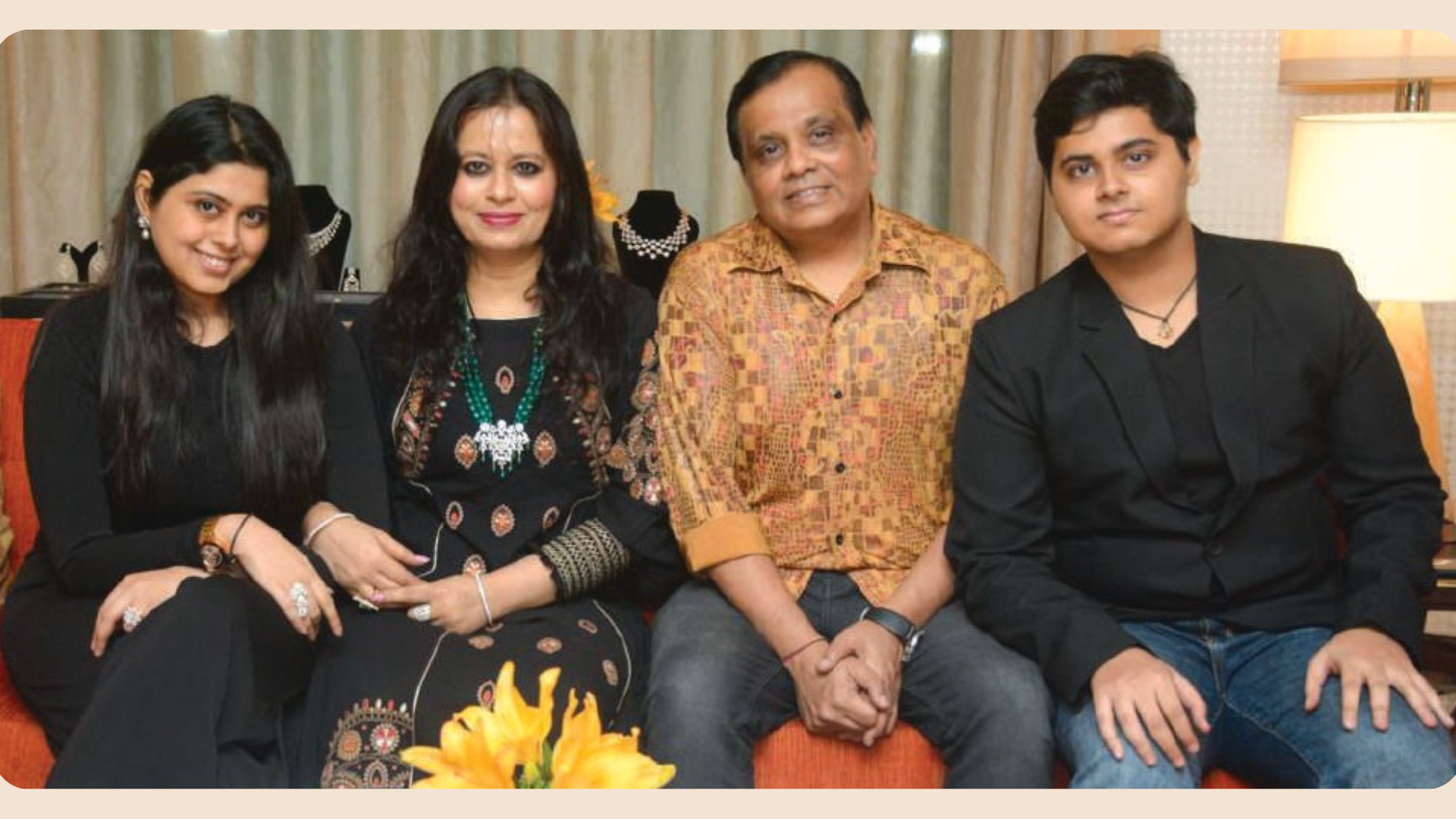 AN INSPIRING LEGACY OF EXCELLENCE AND VISIONARY LEADERSHIP OF DR. RAJENDRA JAIN
Revolutionizing the Fashion

and Jewellery Industry with Passion and Innovation
It's the voice of the Fashion, Gems & Jewellery domes and enunciation of their intertwined fate narrated through a collective representation of principles, artistry, passion, and togetherness. A family that bedecks the two industries and bespeaks the charisma of precious adornments. We present the SVAR group of companies by the Jain family. We are highly pleased as we converse with the man behind the SVAR Group – Dr. Rajendra Jain, and walk alongside him as he shares his vision and voice. Here is a descriptive version of the conversation with Dr. Rajendra Jain.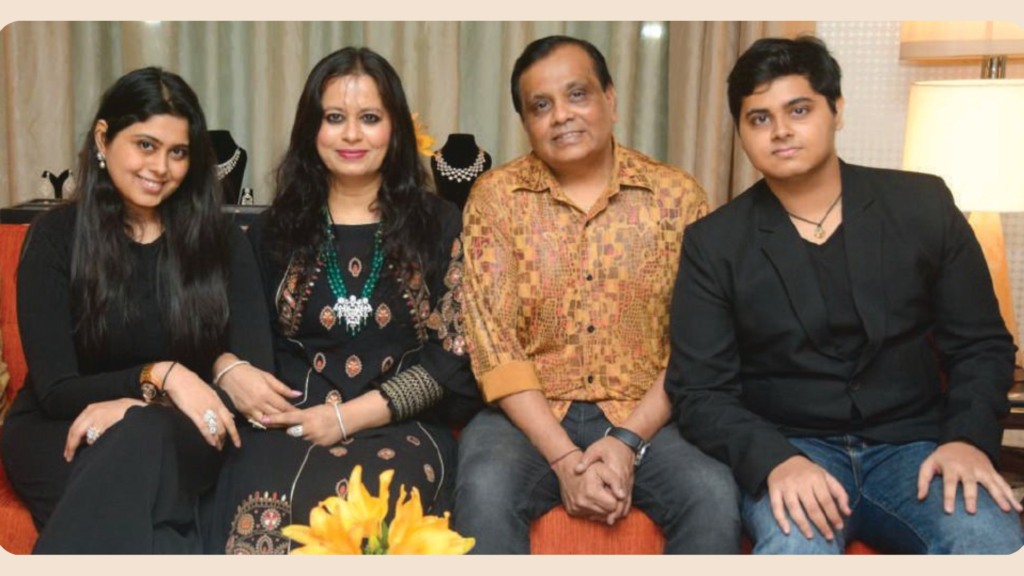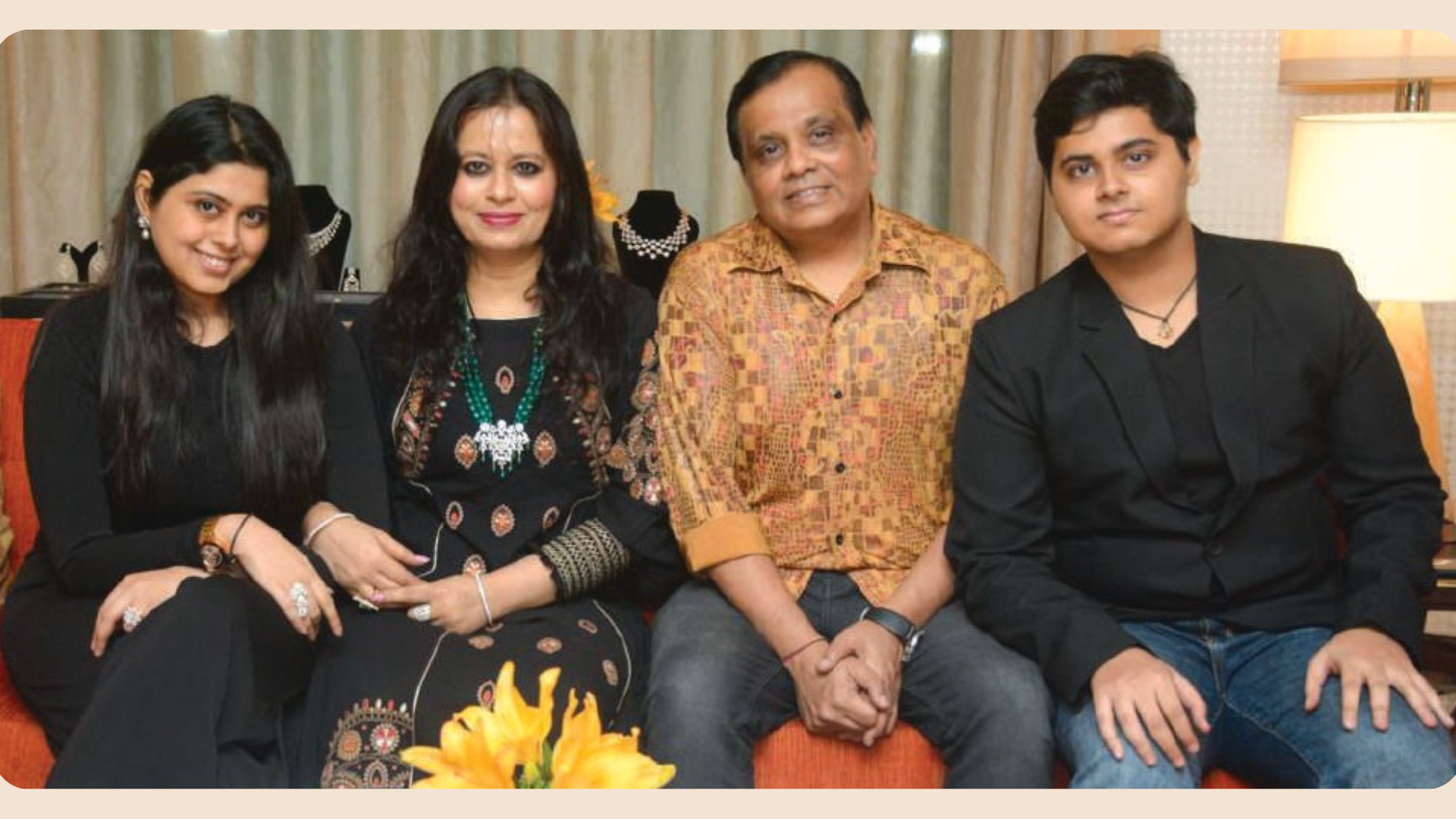 What is the significance of the name "SVAR", and how does it reflect your family's collective voice and values? How does SVAR contribute to the growth and success of its customers?
Dr. Rajendra Jain: SVAR is significant to my family as it represents our collective voice and values. The name is derived from the initials of each family member, making it a representation of my family's voice. Each of us brings unique qualities and principles to the company, which has shaped SVAR into what it is today. My son, Siddhant, embodies innovation, ambition, and a drive for growth. Vidhi, my daughter, brings creativity, artistry, and a strong commitment to ethical work practices. My wife, Anita, serves as the foundation of SVAR, providing the strength, patience, and perseverance required for success. Lastly, I, Rajendra, bring extensive passion, experience, expertise, and strategic knowledge to propel the company to new heights.
At SVAR, we firmly believe that our success is intertwined with the growth of our customers. We prioritize building strong relationships with our customers, considering them as business partners and friends. Trust is fundamental to our interactions, and my personal credibility plays a vital role in fostering these relationships. We always strive to create a win-win situation, ensuring our customers and SVAR benefit from our collaborations.
One way SVAR contributes to our customers' growth and success is through our brand-partner program. We actively promote our customers' businesses and support them in their branding and marketing initiatives. By leveraging our network and resources, we assist them in surpassing their competition and reaching new heights. Our assistance extends beyond providing products or services; we go the extra mile to help our customers promote their businesses, connect with potential prospects, and offer tailored solutions.
SVAR holds a special place in the hearts of every family member. When we established our family-owned business, naming it SVAR Group of Companies was a natural choice. The name embodies our shared values, collective voice, and the deep connection we share with the company.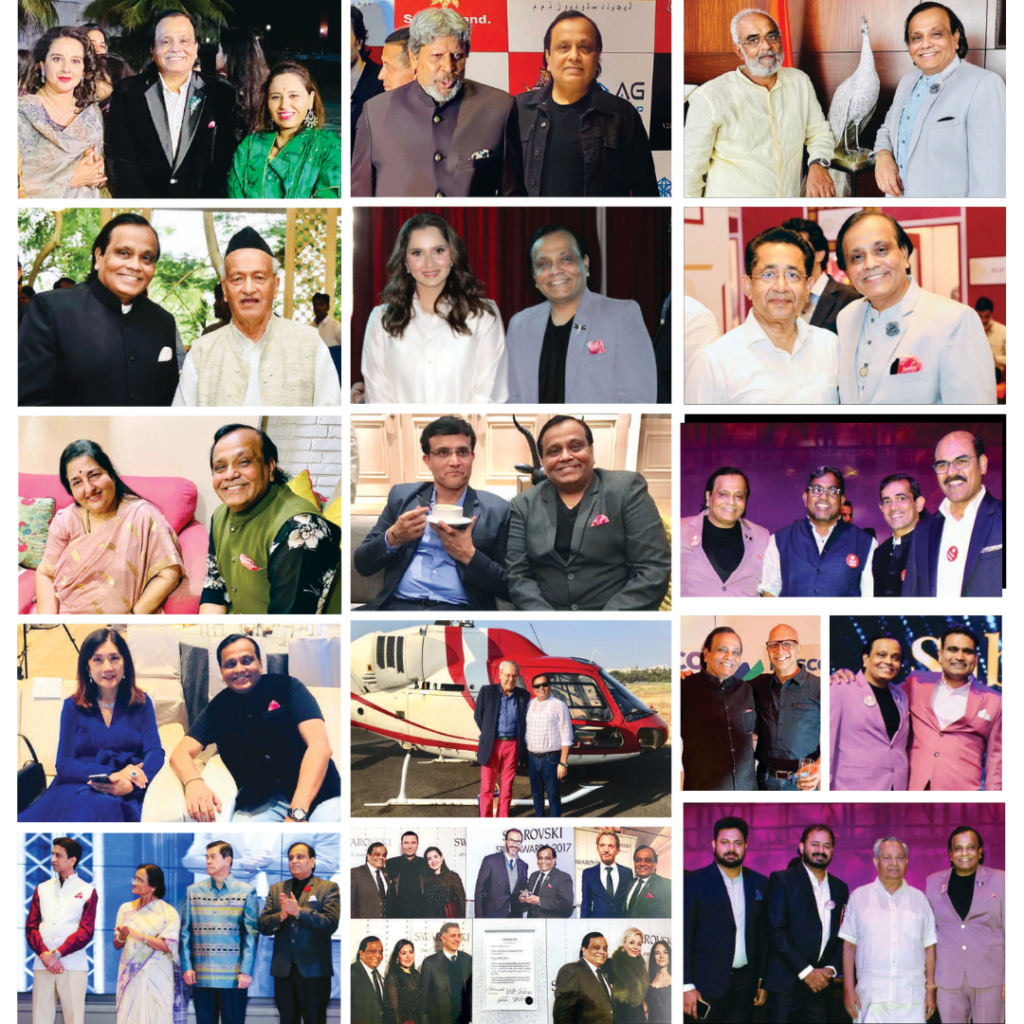 What inspired you to establish SVAR Group and pursue a career in the fashion, gems & jewellery industry after Swarovski?
Dr. Rajendra Jain: The closure of the Swarovski Gemstones business in India due to the impact of Covid marked the end of a beautiful chapter in my life. However, it also presented an opportunity called SVAR Group. I created a platform to channel my expertise and experience gained at Swarovski into building my enterprises under the SVAR umbrella.
Driven by my passion for the fashion, gems, & jewellery industry, I was inspired to establish SVAR Group as a diverse entity encompassing various facets of this dynamic field. SVAR FINE JEWELRY, SVAR GEMS, SVAR DIAMONDS, SVAR JEWELLERY TECHNOLOGY, SVAR EVENTS, SVAR MEDIA HOUSE (which runs Jewellery Magazine and Fashion Retail Magazine), and SVAR BRANDING & MARKETING Consultant collectively form the foundation of SVAR Group.
This new venture allows me to continue exploring and contributing to the industry I hold dear. I aim to create a platform that embraces innovation, craftsmanship, and excellence in the world of fashion, gems & jewellery. With SVAR Group, I have the freedom to explore various facets of the industry and create a diverse portfolio of businesses. Each venture within SVAR Group allows me to leverage my knowledge and skills while fulfilling my entrepreneurial aspirations.
The closure of Swarovski's Gemstones business marked the end of one chapter but opened the door to an exciting new story with SVAR Group. It has been a journey of reinvention and a testament to my unwavering passion for the fashion, gems, & jewellery industry.
Could you share some insights into the divisions within SVAR Group and each division's roles in the company's overall success?
Dr. Rajendra Jain: SVAR Group of Companies encompasses various divisions, each playing a vital role in the company's overall success. Firstly, SVAR FINE JEWELRY, led by Ms. Vidhi and Dr. Anita Jain, specializes in retailing gold and diamond jewellery. Their expertise in the industry ensures the highest quality products and exceptional designs.
Next, SVAR GEMS, led by me, Dr. Rajendra Jain and Mr. Vivek Gurung, offers a diverse range of lab-grown diamonds, natural gemstones, created stones, and jewellery application technology. This division combines innovation and craftsmanship to deliver cutting-edge solutions and exquisite gemstones.
Additionally, I lead SVAR CREATIVE & COMMUNICATION AGENCY also, which is a consultant for branding, marketing, and strategy. This division leverages its expertise to help clients build strong brands, implement effective marketing campaigns, and develop strategic growth plans.
Lastly, SVAR EVENTS & MEDIA NETWORK, led by Mr. Siddhant Jain and Mr. Amit Sharma, specializes in organizing events and managing a media network. Through their meticulous planning and execution, this division ensures successful events and effective media coverage, providing exposure and opportunities for clients.
These divisions within SVAR Group synergistically contribute to the company's overall success. By combining their unique strengths and expertise, they offer comprehensive services and solutions to meet clients' diverse needs in the jewellery and fashion industry. The collaboration and cohesion among these divisions play a significant role in driving growth, fostering innovation, and maintaining SVAR Group's position as a leading player in the industry.
Could you share some of your key accomplishments and contributions to the industry throughout your career?
Dr. Rajendra Jain: Throughout my career, I have achieved several key accomplishments and made significant contributions to the industry. One notable achievement was receiving the Top 50 Indian Icon award, allowing the industry to recognize my accomplishments and amplify our influence within the industry. Additionally, being honoured with the World Icon Award further validated my dedication and impact on a global scale. However, one of the most prestigious rewards I received was the Swarovski Spirit Award in Austria. This incredible experience not only affirmed my expertise and contributions but also made me feel like a king among my peers. These accolades and honours are cherished memories that highlight the recognition and respect I have earned throughout my career.
How do you stay motivated and inspire your team, especially during challenging times?
Dr. Rajendra Jain: Staying motivated and inspiring my team ,especially during challenging times, is a top priority for me. We have a clear mission that serves as our guiding principle: to create brilliant solutions for the growth and success of our customers, industry, and country. To achieve this, we abide by our core values, which define our actions. We are committed to being ethical, passionate, responsible, innovative, and flexible.
To keep my team motivated, we invest in their growth and development by providing comprehensive training and coaching. We ensure they stay ahead in the industry by keeping them updated with the latest technology and industry trends. We never consider our team members mere employees; they are treated as valued family members. Their satisfaction and growth are our responsibility, and we prioritize taking care of their needs to the best of our abilities.
In challenging times, we reinforce our focus on the four values that define SVAR: responsible, imaginative, vigours and passionate. We encourage our team members to take ownership of their work and be accountable for their actions. We foster a culture of innovation where new ideas are welcomed, and creativity is nurtured. We approach challenges with energy and enthusiasm, demonstrating resilience and determination. Above all, we inspire passion in everything we do, igniting a shared sense of purpose among our team members.
By embodying these values and leading by example, I strive to maintain a motivated and inspired team, even in adverse situations. Together, we overcome challenges, push boundaries, and achieve excellence in our pursuit of success.
How do you see the fashion, gems & jewellery industry evolving in the coming years, and how is SVAR Group prepared to adapt to these changes?
Dr. Rajendra Jain: The fashion and gems & jewellery industry is a dynamic landscape constantly evolving as consumer preferences and trends change over time. At SVAR Group, we recognize the importance of staying ahead of these changes and adapting our strategies to meet the evolving demands of our clients. Regardless of the specific products or lines we cater to, the key to success is providing consumers with what they desire.
We have built a skilled and dedicated team committed to continuous market research to prepare for these changes. By regularly monitoring market trends and consumer preferences, we stay informed about our target audience's evolving needs and desires. This knowledge allows us to proactively adjust our offerings, develop innovative designs, and ensure our products align with the latest trends.
Furthermore, our focus on customer satisfaction remains unwavering. We aim to meet and exceed our client's expectations by providing them with exceptional products and experiences. We actively seek feedback from our customers and use it as valuable insights to further refine and enhance our offerings.
As a forward-thinking company, we understand the significance of technological advancements and digital transformation in the industry. We embrace innovation and leverage technology to streamline our operations, enhance efficiency, and offer a seamless experience to our clients.
By staying attuned to the evolving fashion, gems & jewellery industry and being prepared to adapt, SVAR Group remains poised to meet our customers' changing needs and preferences. We are dedicated to creating memorable experiences and ensuring that our brand leaves a lasting smile on the faces of our clients.
What legacy do you hope to leave behind through SVAR Group and your contributions to the fashion and gems & jewellery industry?
Dr. Rajendra Jain: Through SVAR Group and my contributions to the fashion, gems & jewellery industry, my ultimate goal is to leave behind a lasting legacy. I aspire to be recognized as a revolutionary figure, someone who made significant contributions to my fraternity and our country. I aim to be a change-maker, a trendsetter, and an innovator.
At SVAR, we are committed to boosting our nation's economy and providing unique solutions to the world. Through SVAR Media, we bring the latest news and insights from the gems and jewellery sector, offering a platform for learning and understanding. SVAR Gems not only offers gemstones, CZs, and lab-grown diamonds but also brings technological solutions and innovations to simplify jewellery manufacturing, making it more affordable for end consumers.
With our fine jewellery brand, we strive to provide best- in-class designs that bring smiles to our customers' faces. Through our creative agency and event company, we create exceptional experiences and platforms for our customers to showcase their hard work to the world. Additionally, through our consulting agency, I share my experiences and knowledge, assisting other firms in establishing their place in the industry.
Through these various endeavours, I aim to make a significant impact and contribute to the growth and development of the fashion, gems & jewellery industry. I want to be remembered as someone who not only created success for myself but also empowered others to succeed. By leaving behind a legacy of innovation, creativity, and knowledge-sharing, I hope to inspire future generations and shape the industry in a positive and transformative way.
What advice would you give to aspiring entrepreneurs in the fashion and gems & jewellery industry?
Dr. Rajendra Jain: To aspiring entrepreneurs in the fashion, gems & jewellery industry, I offer the following advice based on my learnings and experiences:
First and foremost, believe in yourself and have confidence in your abilities. Trust that you have what it takes to succeed in this competitive industry.
Believe in your products or creations. Ensure that you have a strong understanding of the value and uniqueness they bring to the market. Stand by the quality and craftsmanship of your offerings.
Position your brand effectively, Clearly define your target audience, understand their needs and preferences, and tailor your brand messaging and image accordingly. Differentiate yourself from competitors and communicate your brand's unique value proposition.
Invest in impressive marketing and branding efforts. Develop a cohesive and visually appealing brand identity, and leverage various marketing channels to reach your target customers effectively. Build brand awareness and create a strong brand presence.
Focus on building trust and becoming a trusted partner to your customers. Cultivate strong relationships, provide exceptional customer service, and consistently deliver on your promises. Earn the trust and loyalty of your customers, as trust is crucial in this industry.
Lastly, be passionate about what you do. Passion fuels motivation and perseverance, especially during challenging times. Let your passion for your craft and the industry drive you forward and inspire others. If you do so, no one can stop you from succeeding in your business and becoming an inspiring entrepreneur.

RELATED CONTENT: Discover magic of Luxury | HYBA JEWELS – 925 Sterling