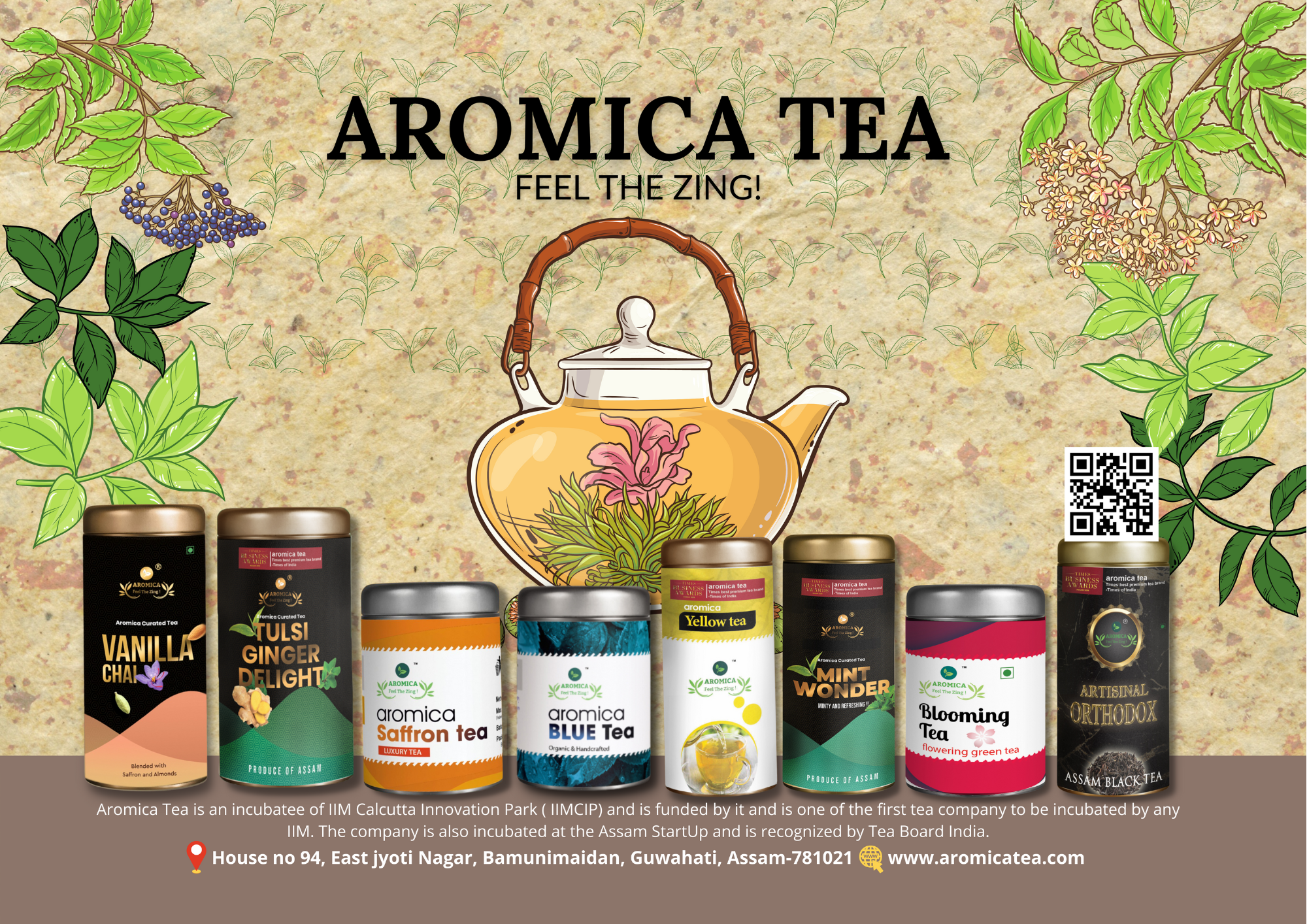 A REVOLUTION THAT FITS A TEA-Aromica Tea
Aromica Tea- Piping hot tea is a 'MUST HAVE' part of a normal household during cold winter mornings. Bringing an aromatic and healthy combination of several soulful beverages to your dining table, Aromica Tea is a place where local wisdom is combined with traditional knowledge to create the ultimate blends of magical teas.
Having the ability to enrich the soul and promote health and wellness at the same time, tea blends by Aromica Tea are blessings for tea lovers.
The company and Its Journey
- Aromica Tea
Based in Guwahati, Aromica Tea was established in Nov 2018. The startup, founded by Mr. Ranjit Baruah is involved in the Curation, production, and manufacture of value-added teas and was launched in Kolkata and Mumbai at The World Tea & Coffee Expo. Aromica Tea came into existence with an initial investment of around Rs. 10 lakhs and in a two-room office (10 x 16 ft) situated in the backyard of the family's residence at Guwahati.
'The concept of curating value-added teas using local herbs and spices was a unique and risk-taking decision as this market was a niche market and not well explored.', the founding Director, Mr. Baruah narrates the startup story. 'We were convinced that consistency in quality and a good tea would always be appreciated by the customers. We moved ahead with this belief and made 5 blends initially.'
The conviction of the founders and the excellence of the tea was captivating for the customers. The initial positive response from the customers encouraged the venture to come up with more exclusive blends.
Having worked in tea gardens in a managerial capacity for almost 20 years and being posted in various places across Assam, Ranjit knew the locale and the local farmers which helped him to decide the trajectory. Accessibility to various small farmers producing excellent teas in the remote areas of Assam acted as the stepping stone carving the path for the startup to move forward. 'We connected with more local farmers to procure varieties of tea and tried creating different blends.', he said.

His personal experience of tea-tasting, the various processes of tea production, Ranjit's Hotel Management degree, and his experience of 20 years of working in the hotel industry became the perfect blend while establishing Aromica Tea which came in handy during the process and hence the company was founded and has been steadily serving it's customers ever since.
The Company has been providing more than 40 unique handcrafted wellness Tea Blends The unique tea blends are created by combining different kinds of teas ranging from Green Tea, Oolong Tea, White Tea, and Yellow Tea with natural herbs spices like Tulsi, Bhoot Jolokia (King Chili), and Bamboo Shoot.
The natural ingredients thus used augments the teas with nutritional value and are good for health.
'The unique 'Bhoot Jolokia' (King Chili) tea blend is the only such blend available worldwide. This tea blend has become quite popular, especially after the Coronavirus outbreak, as it provides excellent relief from fever and body aches.', says Mr. Baruah. 'We are also the first to introduce a unique blend of Bamboo Shoot Tea, Blue Tea, and Rudraksha Tea in the North-East region.'
The company also provides a host of regular tea blends ranging from Mint Tea, Tulsi Green Tea, Lemongrass Tea, Ginger Tea, Morning green Tea, Rose Elaichi green tea, and various varieties of Masala Tea, each made from a different aromatic spice. The Vanilla chai and Chocolate tea have been the latest addition to make an intriguing cup of milk tea. The recently launched Blooming green tea is an exotic tea blend that offers a floral display along with a good taste.
Upcoming Plans
Speaking about the upcoming plans Ranjit said that the company wishes to extend its numbers of Tea Café which are named AROMICA JUST TEA.
These cafes are one-stop destinations to try and taste more than 60 varieties of teas, and a place where one can taste authentic Assam teas and also purchase various types of teas.'
The company also plans to introduce newer flavors in the coming years that address various health issues besides offering a good taste and value for money. With Export channels opening up, the company plans to increase its D2C business and place itself in multiple E-Commerce platforms for Pan India coverage. The corporate gifting sector is another vertical that the company is working upon.
A Venture of Love and Passion for Tea
When the best organic teas sourced from the small farmers are blended with all-natural herbs and spices, the end product hence created is sure to leave a lasting impression on each consumer. The venture invites all the tea lovers to taste the unique blend of their choice from a wide range of combinations.
'Aromica Tea is a venture of love and passion for Tea offering something unique for everyone. Through our creations we wish to provide a never-before and value-for-money experience for tea-lovers.', concludes the founding Director.
Vision
Spreading Health, Happiness, and Smiles is the vision of the venture.
Motive
Promoting wellness through a cup of tea using natural ingredients and thereby bringing a smile on everyone's face is the motive that the company propels for.
Mission
We seek to create, innovate, and curate ideas based on tea along with a great taste to a global audience integrating the local producers and promoting holistic wellness blended with passion.
The Directors:
1. Ranjit Baruah- Founder Director -B.Sc. -20 years experience in the Tea Industry, Hotel Management graduate, Professional Management Course on Entrepreneurship from IIM, Rohtak.
2. Dolly Sharma Baruah- Co-Founder, Director, B.A- 14 years exposure to the tea industry.
3. Kakolee B.Bordoloi- Director, B.A, the experience of 18 years in Tea Tasting, Marketing, and Exports.
4. Dr.Utpaljeet Baruah- Director, BVSc., LLB- 10 years experience in Marketing in a multinational company and a practicing advocate with 16 years experience.
5. Ranju Rekha Sharma Baruah- Director, BA, LLB. Experience in TV media and a practicing advocate with 14 years of experience.