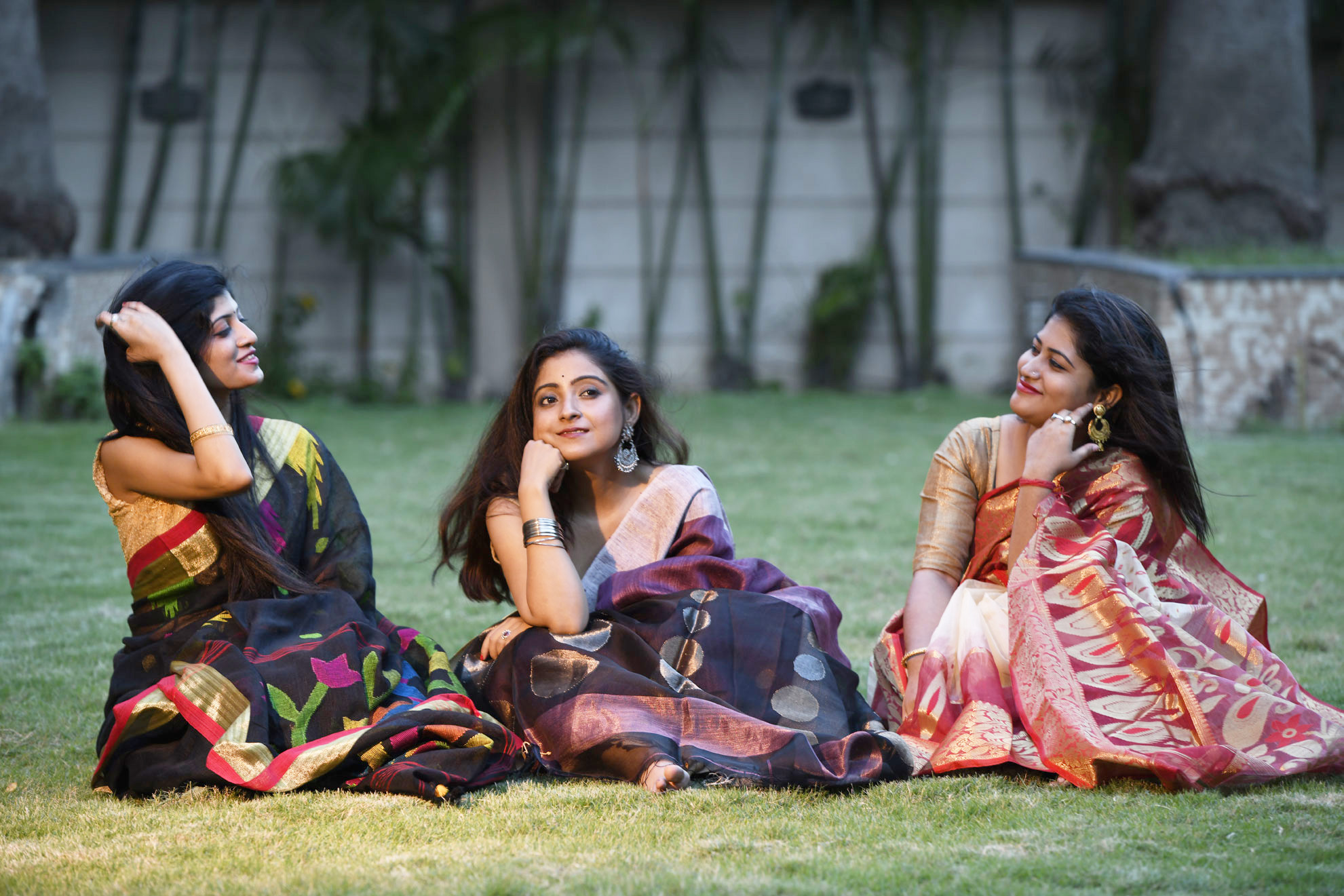 The Unmatched Weaves from the Finest Weavers of India – KALASHAILEE Sarees
Susmita and Six Yards of Nostalgia
"I love sarees. My personal saree collection got tremendous appreciation from the people around me and they would insist I choose sarees for them. These little friendly activities became my inspiration to make a collection for others, for every 'we' who loves this traditional six yards of love.", Susmita, the founder of Kalashailee, reminisces the story behind the start-up.
Meeting the Weavers
Fortunate of living in West Bengal, it was easy for Susmita to go to one of India's biggest handloom hubs at Phulia, Shantipur, and Bolpur and meet the weavers and feel the sensitive touch of the struggling lives they were living each day. When she became familiar with the lives of the handloom weavers, she thought of working with them, for their mutual growth as a community for a better tomorrow. "Now, the dream lives by the name of Kalashailee and together, we are going to build a bigger supportive community through our products where people will strengthen each other's willpower and remain unbiased."
Art of Style- Kalashailee
Susmita founded Kalashailee from her passion for sarees. "Kalashailee is a brand where traditional art is mixed with a fashionable unique style statement.", she says. She then adds, "Anyone can drape a saree wherever one wants, but they must seek comfort in it, by feel and by appearance."
The thought influenced Susmita to explore handloom products which feel like a second skin on the body. "It is so breezy, comfortable, light-weight, with simple-minimalistic designs. It's sophisticated yet sustainable.", she describes the quality of handloom materials.
Spreading Smiles
Kalashailee (Art of style) was born in January '21 with the sheer motive to mix India's evergreen artistic tradition with the age-old creativity of handicraft and love of weaving heritage while working to uplift the weaver's community. Speaking about the vision of Kalashailee, Susmita says, "Our vision is to bring out weavers' creations, to introduce the artistic weaves to the world which will serve our purpose of spreading smile on each of the weaver's family and contribute to a better world to the best of our abilities."
Simple, Beautiful, and Elegant Collection of Sarees
Susmita, who believes in comfort and convenience, says that simplicity, beauty, and elegance are the key factors of Kalashailee's products. "Fashion and style are susceptible to change, but art is stable. Kalashailee's style is elegant but simple, minimalistic and prominent."
The brand offers a breathtaking collection of different types of handloom sarees which is the main product available for customers to purchase. Kalashailee brings to you handpicked pieces from across the Indian states like Bengal's Tussar Silk, Baluchori/Swarnochori, Kantha stitch on Khesh cotton sarees, South cotton sarees, Rajasthan's Kota Dorai sarees that will soon be accompanied by magic of Organza, Lucknowi chikankari sarees, and dupattas.
Susmita's Views on Age-Old Handloom Tradition and Kalashailee's Take in Supporting it.
"One of the oldest industries in India, the Handloom Industry has a constant high demand across the globe for their magical artistic craftsmanship and intricacy of the designs. Indian artists are distinguished worldwide for their hand spinning, weaving and printing elegance. Still, this timeless industry is at risk as weavers are facing hardship due to several reasons such as increasing yarn prices, competition with the power loom sector, infrastructural constraints, and lack of proper education and marketing awareness."
"For the next 5 years, we will be aiming at increasing our team of weavers and reach out to maximum end-users to revive our heritage."
"I would encourage every Indian citizen to educate the coming generations about the history of the handloom industry and its importance in our lives. Weavers must get the dignity and recognition that they deserve."