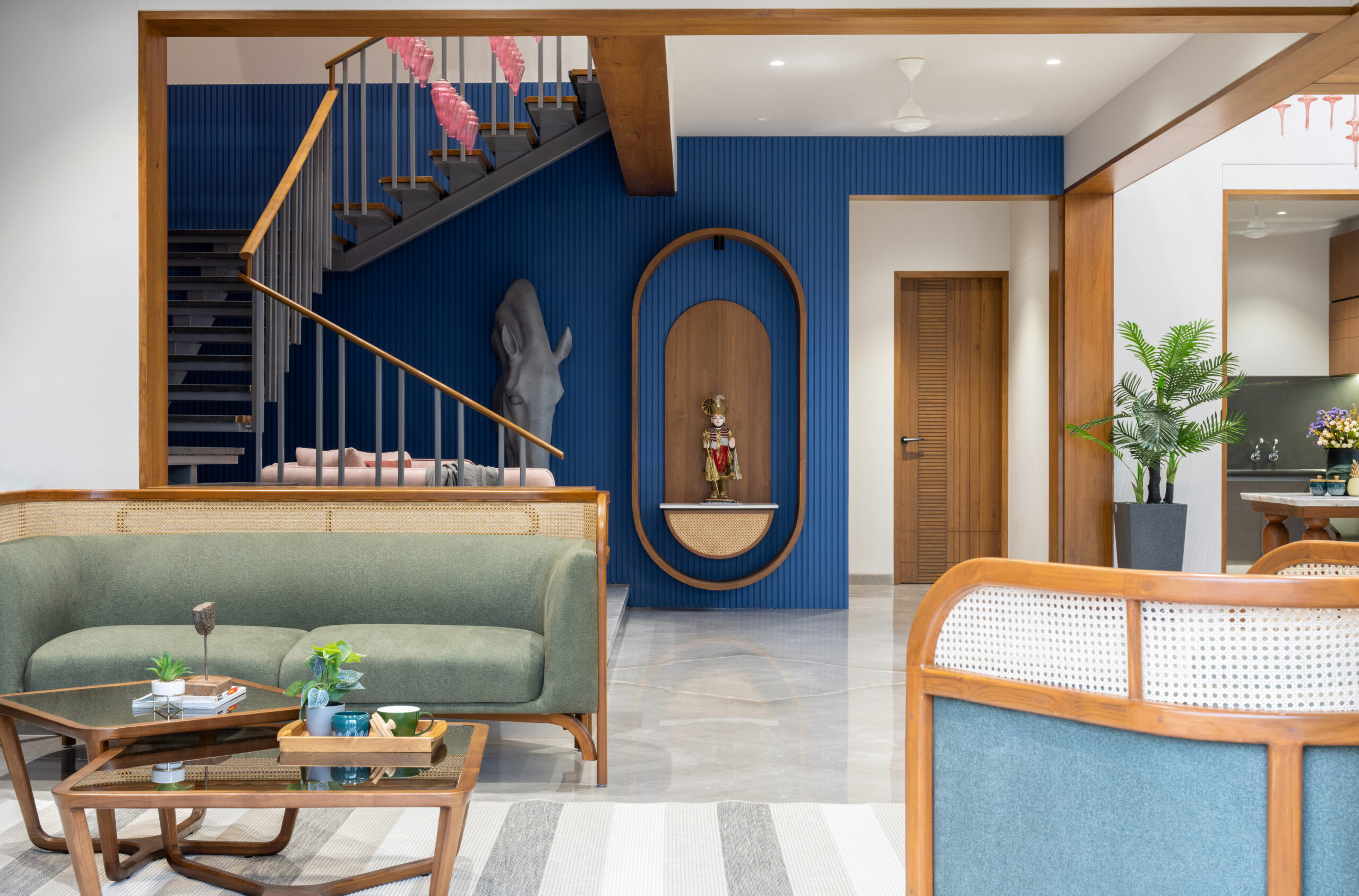 Insights of Luxurious and Modern House by Green Squares Design Studio
"SWA:" a private residence bungalow located in town called Kadi by by Green Squares Design Studio, 40kms away from Ahmedabad in Gujrat, is truly spectacular residence, spread over 4500 sq. area, client being a builder, wanted his house to be eye catchy welcoming and luxurious, comprising modern as well as Indian aesthetics. This house is an illustration of conventional beauty in a modern environment. With attention to details being paramount with selection of each modern as well as antique. All the elements come together and add lux values to the design.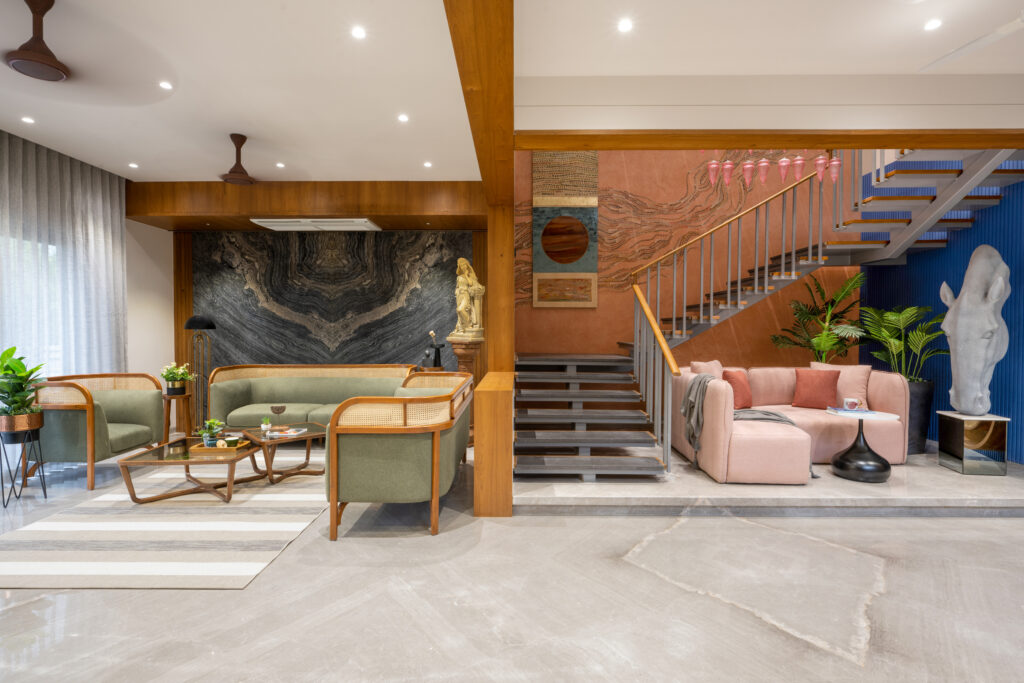 Taking on a journey of this house, it starts with entry and linear corridor connects to dining with further connects to Pooja, family sitting with stairs and then living room by a common passage. To design the foyer and entry passage was a challenge as the entry itself is a reflection of luxury of this house. Teak veneer wall and ceiling with unique customised brass flowers and welcoming artefacts, having a console with wood, marble and brass is creating and everlasting impact on visitors while entering.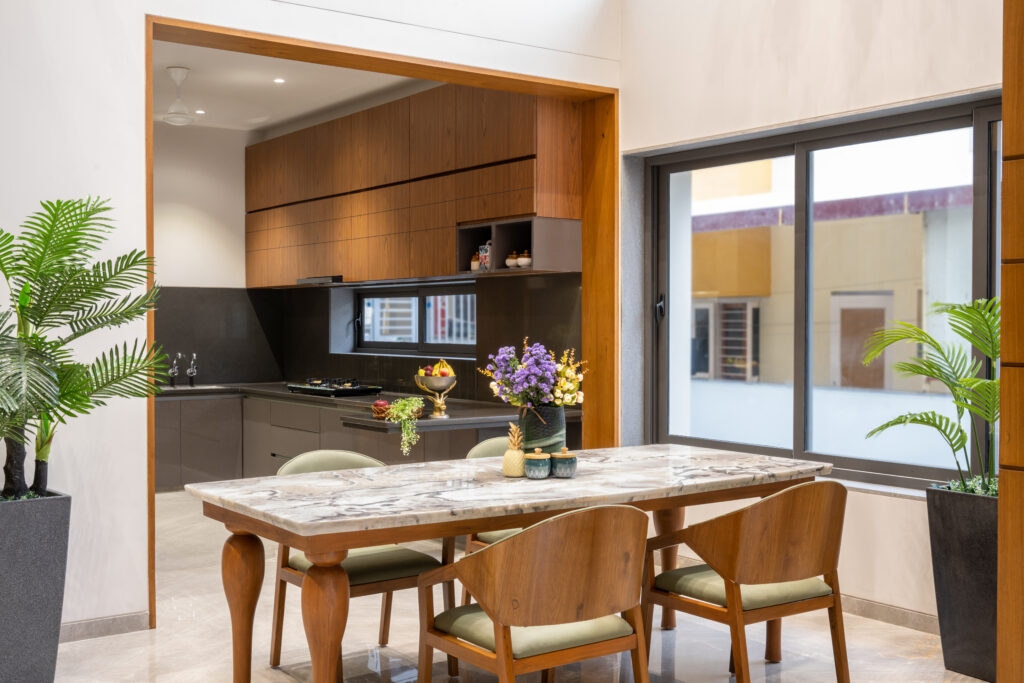 The whole panorama from living room to Pooja is defining luxurious stretch for the visitors. "The grey wave" book match with leather finished marble takes all the attention as you turned left towards living room wooden column of pol house of Ahmedabad, having antique European statue enhancing one corner of the living room. Wood crafted sofa flourished green fabric nicely knitted rug from Asian paints, drawing room attention of the visitors, gives feeling truly defined luxurious space, TV unit is toned down with teak backdrop and customise light gives balance in space.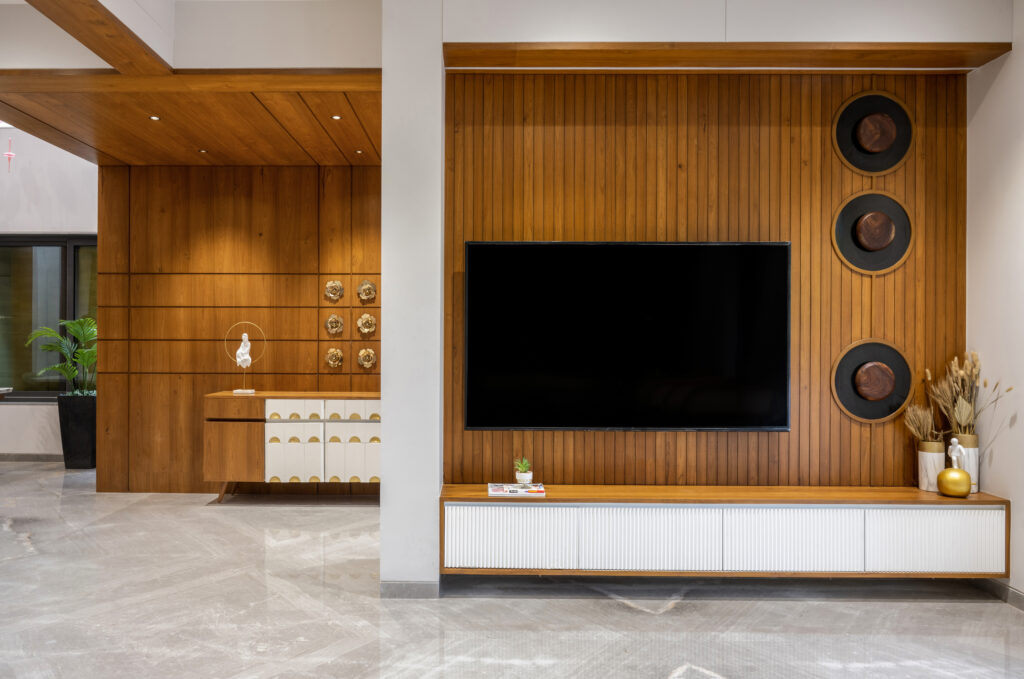 Moving further this passage leads you to the double height dining area having great source of light with glorious rose customised glass chandelier, dover white marble top dining table make the space heart of the  house. Moving to the left, the whole focus is captured by the Pooja space having blue backdrop, which is subtle down by the height pink pestle lime coated backdrop wall. The famous artist Nirali gajjar has created art installation from her series called "Threads Ran of Kutch" has made this space uniquely magical.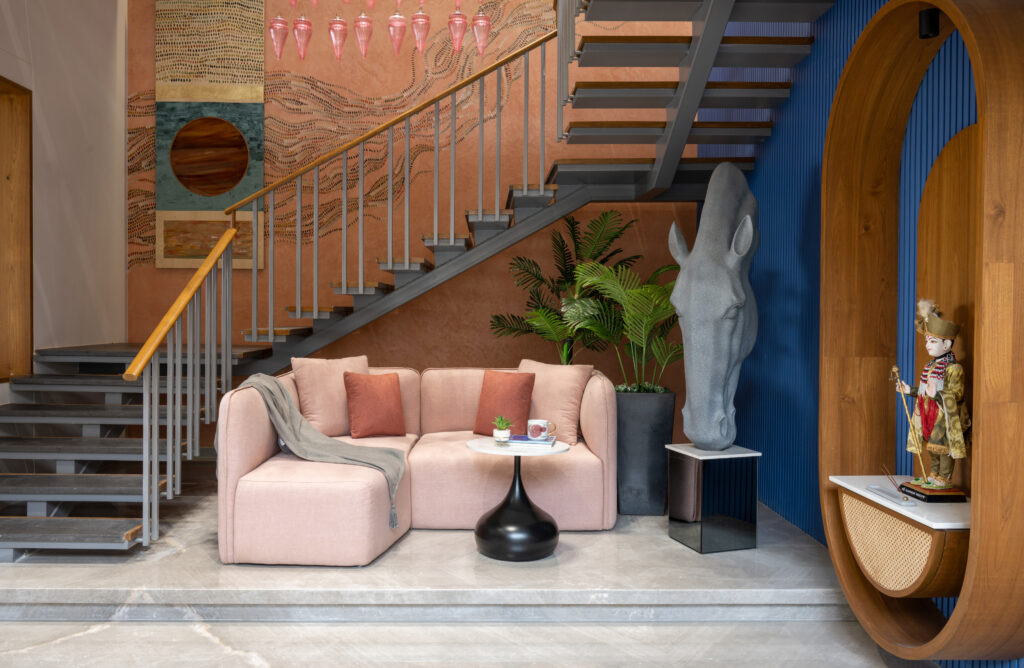 The fabricated stairs with marble and wood with raised platform create a space for family sitting along with Pooja. 5ft. tall face of horse, which is symbol of progress is capturing attention to the entire space. Soft pastel pink lounge sofa, pastel pink lime plaster with red wine chandelier and contrast blue colour make this space more cosy and rich.
Grandparent's room, is having shades of purple with cream and grey palate give space minimal and comfort appealing curves, arches and soft edges are introduced to provide smoothness in space and for safety reasons.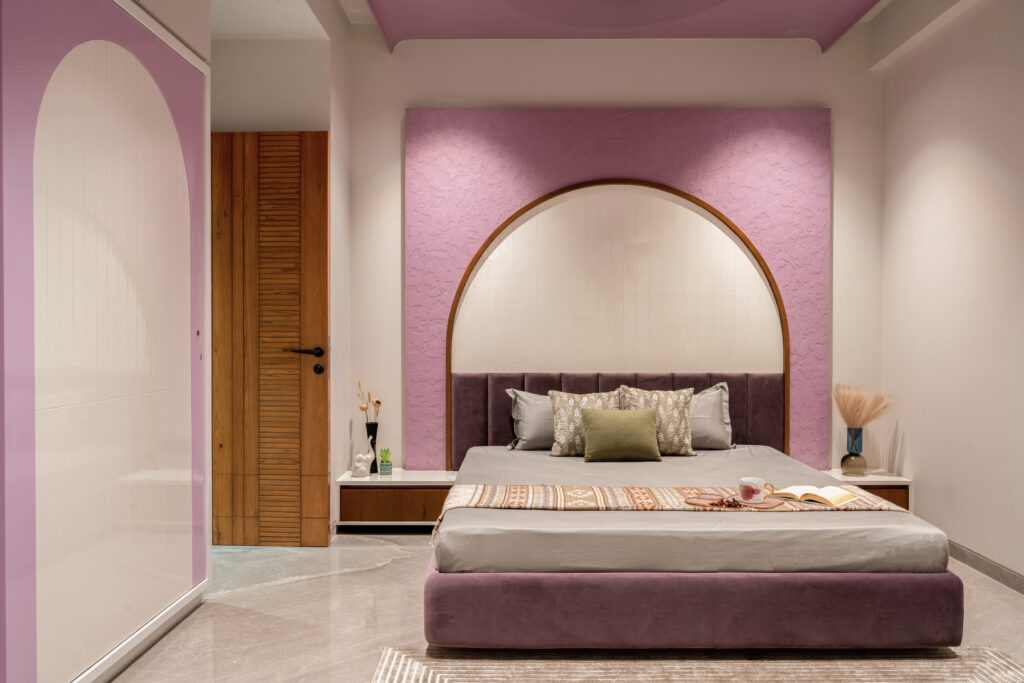 There is another interesting detail all along the lengthened passage leading the hallway and other rooms at first floor. The bench has been designed for sharing place which is in between the two bedrooms where low height seating which wanted to have. Simple yet eye catchy aesthetic we wanted to provide to this piece of art furniture. While designing, inspiration is taken from mid-century modern furniture which represents the functionality, cleaned lined, simplicity as well as elegance. 
This elegant low height seating is the fusion of bobbin's legs inspired from 'Indian Bajor' and mid-century modern furniture style.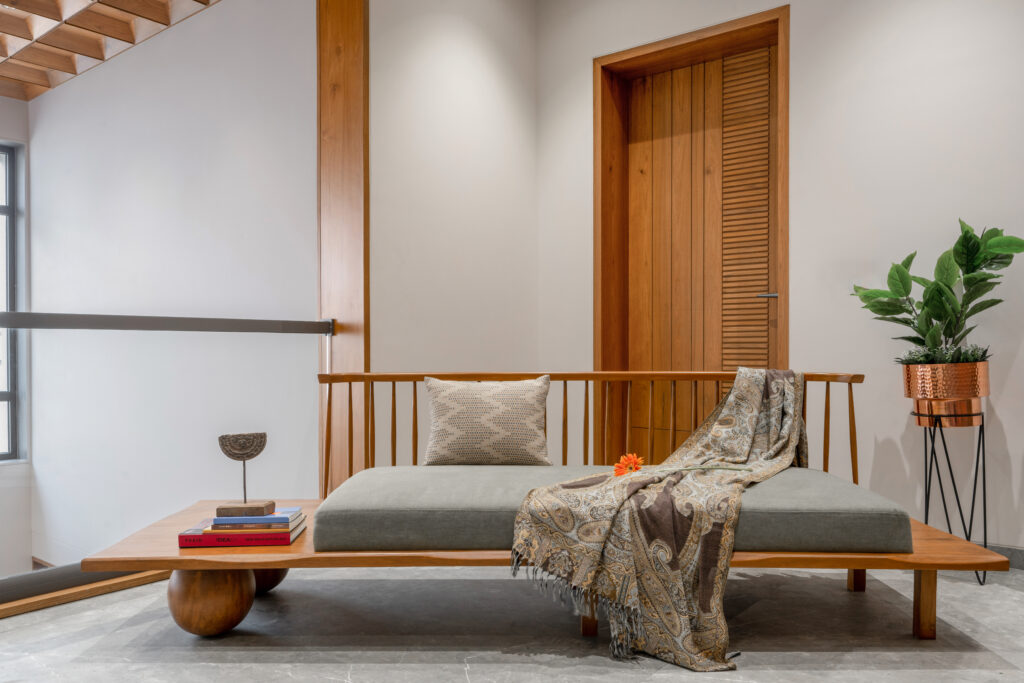 On one side of this area has Master bedroom and other side has Son's bedroom along with the Guest bedroom. 
The entire Master bedroom has a major focal point is the design of arch shaped bed back. The symmetric use of arch in the master bedroom also contributed to a sense of balance and coherence. The use of materials in this geometry was also consistent. The minor detailing of arch and creating alcove out of it enhance the beauty of the room. The constant use of cane, combined with similarly proportioned geometric pattern design, allowed for visual consistency. The green back panels, wardrobe, and storage unit provide the appropriate scale for exploring and experimenting.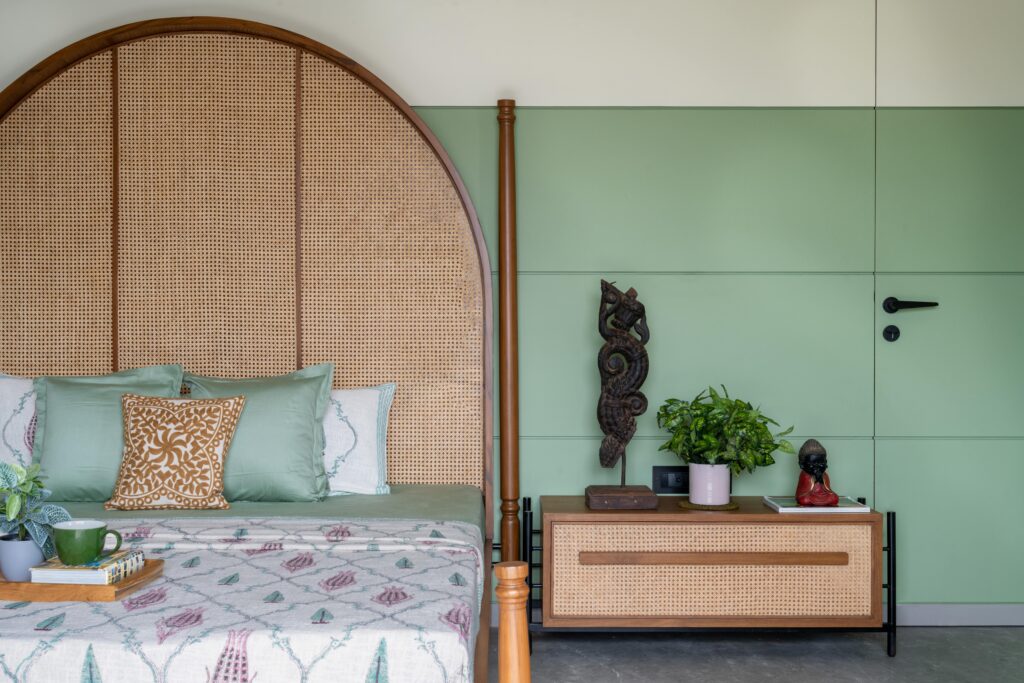 Because of the colour palettes, Son's Bedroom appears very pleasant and large. The enormous, bold artwork by Nirali Gajjar behind the bed immediately draws your attention. The geometry is obtained by rhythmically arranging the bamboo sticks. The three-layered combination of Brown PU, Sathvario Marble patterned tiles, and Jute on the bed back provides 'balance' in a space. Grey leather is utilised to create the bed's gentle edges. The enlarged bedroom with leisure space is kept open for children play area. With a pastel pink sofa set against a backdrop of piccolo grey tiles and bronze mirror combining to make the space much cosier.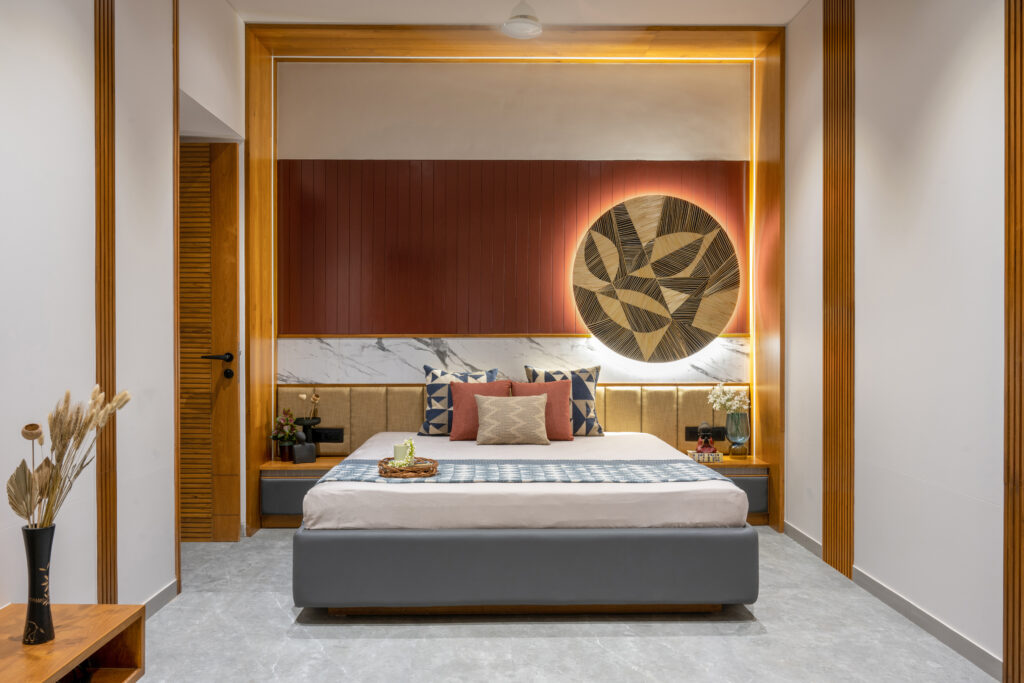 The house is a showcase for exploring and experimenting with the relationship between geometry and materials. The delicate balance of creating contrasts with the colour beige of cane with a range of traditional and contemporary colour palettes was achieved. It is, indeed, a stroll down memory lane through a new lens. 
Green Squares Design Studio | Ar. Bhavik Mehta
Architectural Designer