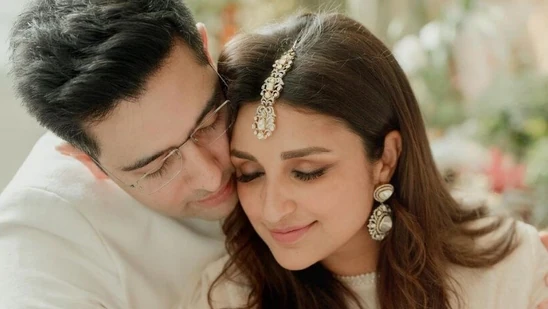 Parineeti Chopra and Raghav Chadha: The Latest Celebrity Couple
Celebrities are always in the spotlight, and their personal lives are often under constant scrutiny. Fans are always eager to know who their favorite stars are dating, and when two celebrities come together, it's a cause for celebration. Recently, rumors have been circulating about actress Parineeti Chopra and politician Raghav Chadha's relationship, and it turns out that they were true!
Parineeti Chopra is a well-known Bollywood actress, who has made a name for herself with her impressive acting skills. She has starred in several hit movies and has won numerous awards for her performances. Raghav Chadha, on the other hand, is a prominent politician who is a member of the Aam Aadmi Party (AAP) and has been actively involved in politics for several years.
Parineeti Chopra, the Bollywood actress, has been in the news lately for her engagement to AAP leader Raghav Chadha. The couple exchanged rings in an intimate ceremony held at Kapurthala House in New Delhi on Saturday, surrounded by their family, friends, and distinguished guests.
The engagement comes after months of speculation about the couple's relationship. Fans and media have been eagerly waiting for the news of their engagement, which was finally confirmed by a statement from Parineeti's spokesperson.
The couple's love story is nothing short of a fairytale. They met each other through mutual friends and hit it off instantly. Their shared interests and passion for social causes brought them closer, and they soon realized that they were meant to be together.
Parineeti, who is known for her bubbly personality and infectious smile, was drawn to Raghav's intelligence and wit. Raghav, on the other hand, was smitten by Parineeti's beauty and charm. They soon started dating and became the talk of the town.
Despite their busy schedules and demanding careers, the couple made time for each other and went on several romantic getaways. They were often spotted together at public events, holding hands and looking deeply in love.
Their engagement has been welcomed by their fans and well-wishers, who have been eagerly waiting for the couple to take their relationship to the next level. The engagement ceremony was a private affair, attended only by close family members and friends.
Parineeti looked stunning in a traditional red lehenga, while Raghav looked dapper in a black sherwani. The couple exchanged rings amidst cheers and applause from their guests.
The engagement marks the beginning of a new chapter in their lives, and fans are eagerly waiting for their wedding. Although no date has been announced yet, it is expected to be a grand affair, attended by Bollywood celebrities, politicians, and other dignitaries.
Parineeti and Raghav's love story is a testament to the fact that love knows no boundaries. Despite coming from different backgrounds and professions, they have found love in each other's company. Their engagement is a celebration of their love and commitment to each other, and we wish them all the happiness in the world.