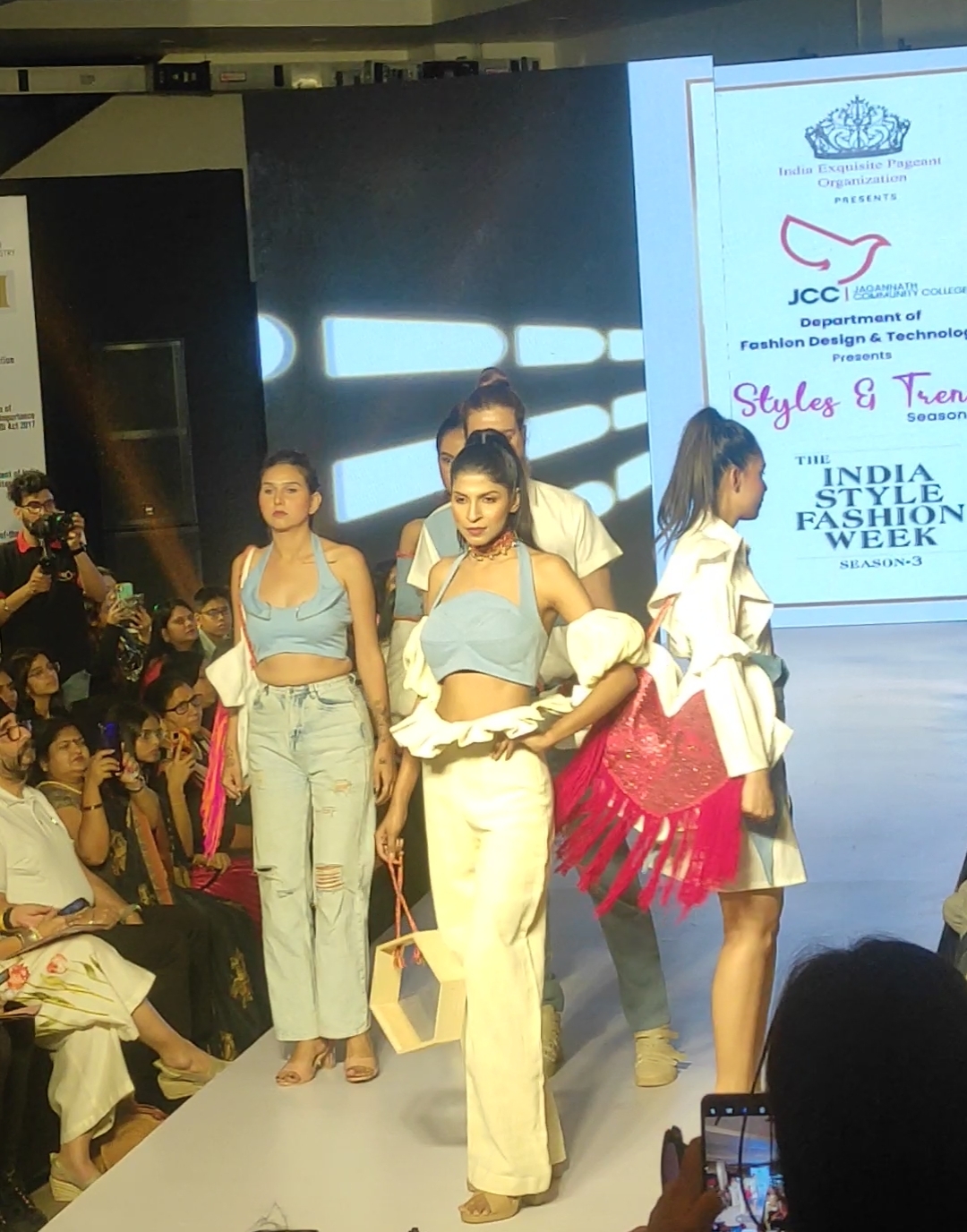 Glitz and Glamour on display at JCC "Styles and Trends 2023"
Top models at India Style Fashion week unveiled the sparkling creations of Budding Designers from JCC
Gurugram, April 22, 2023: Top models, Designers & CEO's from the fashion design industry congregated at the razzling and dazzIing Annual Fashion Show "Styles and Trends 2023". The event came alive on April 22, 2023 at India Style Fashion Week, Epicenter, Apparel Export Promotion Council, Gurugram.
At Styles and Trends various trendy, eye-catching designs created by the students of JCC Rohini, Department of Fashion Design and Technology, were displayed by models. Jagannath Community College Annual Fashion Show at India Style Fashion Week began with a sequence inspired from street wear fashion in denim & khadi fabrics "Futuristic Tribe". It was the transformation of creative ideas and design concepts of young students. Designers of JCC presented many a scintillating creations on sustainable themes such as "Jajabor" a mélange of patch work & hand embroidery, "The Spot Light" & "Rajasthan Ri Pothiyaan" a collection in Ajrakh Print to spread a positive message regarding environmental protection on Earth Day.
Experts and top names from the fashion industry assembled at India Style Week for JCC, Department of Fashion Design and Technology, Annual Fashion Show "Styles and Trends 2023". The collection showcased by the students manifested a mix of 'PRET A PORTER' & 'HAUTE COUTURE'.
The collection of the designers showcased at India Style Fashion Week denoted beauty, purity, clarity and royalty. The colorful dresses on display were designed using various fabrics like khadi, denim, linen & modal etc. The designs were an outcome of experiments with technology, sustainable fabrics, color palette and silhouettes. The Guest of Honour for the event were Designer Sonia Jetleey, Stylist Anuj Lalwani, Fashion Photographer SPS Kalra and Mr. Shiv Keshan. India's leading show director Mr. Kaushik Ghosh choreographed these beautiful sequences. 
Speaking on the occasion Vice chairman Mr. Deepak Gupta, JCC Rohini said, "The fashion industry today is one of the fastest growing and most dynamic Industries in the world. Hence, at JCC Department of Fashion Design & Technology, we train our students keeping three important aspects in mind – the primary needs of the client, the focal point of design and the design appeal to the customer. Seeing today's successful rendition of their immense creativity, I am quite confident that our students will make a quality difference tomorrow when they will join this industry. I wish them all the very best for a successful career."