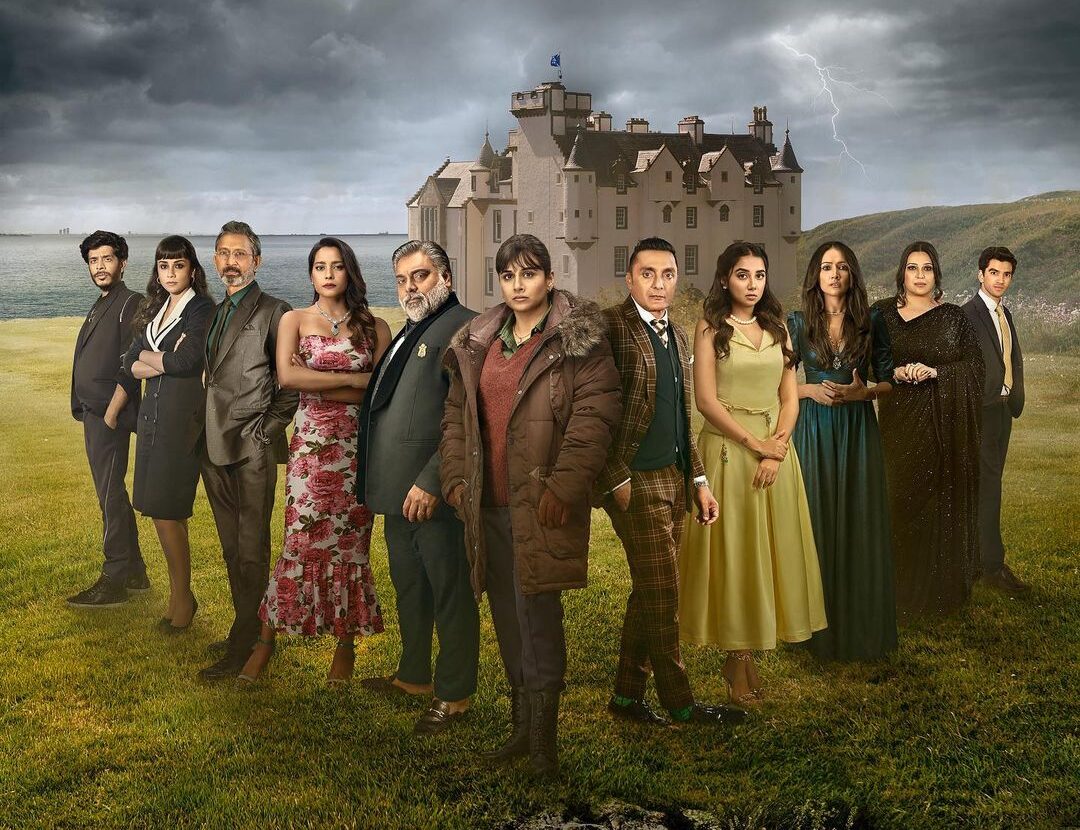 'Neeyat' – A Murder Mystery Worth a Watch
When 'Neeyat' was first released, it seemed like just another murder mystery film set in an isolated castle in Scotland. However, as the story progresses, it becomes clear that the film is much more than that. Directed by Anu Menon, who is known for her work on 'Four More Shots' and 'Shakuntala Devi,' 'Neeyat' is a gripping tale of financial misappropriation, murder, and intrigue.
The film follows the story of Ashish Kapoor (Ram Kapoor), a businessman who flees India after being exposed to massive financial misappropriation. The character is modelled around the infamous Vijay Mallya, which adds a layer of authenticity to the story. Ashish calls upon the CBI from India to surrender and help him with extradition during his birthday celebrations, where he invites his close friends and family. However, as the celebrations unfold, it becomes clear that not everyone present has pure intentions.
After a supposed murder, Vidya's character takes up the job of investigating the crime. But as the background OST keeps reminding you 'farebi main, farebi tu', you begin to question everything you see. The twists in the story unfold in a non-linear format, which makes you a participant in the guessing game. Anu has created a world that is relatable and very local to our audience, which is impressive.
The film is not without its flaws, however. The pacing can be slow at times, and some of the characters are not fully fleshed out. But overall, 'Neeyat' is a murder mystery worth a watch. The story is engaging, the performances are solid, and the cinematography is stunning. The film also raises important questions about financial misappropriation and its consequences.
In conclusion, if you're a fan of murder mysteries or just looking for a good thriller to watch, give 'Neeyat' a chance. It may not be 'Knives Out,' but it stands on its own as a unique and engaging film.
Movie Review: Neeyat
Director Anu Menon's latest offering, Neeyat, is a locked room murder mystery that tries to offer something new but falls short due to mediocre performances. Despite boasting a star-studded cast, including Vidya Balan, Neeraj Kabi, Rahul Bose, Shahana Goswami, Shashank Arora, Niki Walia, Amrita Singh, Ram Kapoor, and Prajakta Kohli, the film fails to leave a lasting impression.
The story is decent and has a shocking value, much like Sujoy Ghosh's Kahaani, which was quite a novel film in the genre. However, Anu Menon falls into the cliche tropes of the 'locked room murder mystery' genre but still manages to offer something new. The plot revolves around a group of friends who gather for a reunion at a remote location, only to find themselves trapped in a murder mystery.
Despite the promising premise, the film is purely let down by the performances. The actors, despite their intentions, come across as caricatures. Scenes that are supposed to be serious are laughable, and the dialogues were spoken as if the actors had been assembled for reading, rather than shooting. There is hardly one scene that you will remember once you walk out of the theatre.
However, Vidya Balan manages to shine as she embodies the robotic nerd-like character. It is not her best performance in recent times, but she manages to bring nuances to her character despite limitations.
The visuals don't leave an impressionable impact either. There is nothing remarkable about the cinematography or the set design. The film fails to create an immersive atmosphere that would have added to the suspense and thrill of the story.
In conclusion, 'Neeyat' is entertaining as long as you can overlook the mediocre performances. However, that is a difficult ask. The film could have been much better with a tighter screenplay and better performances. As it stands, it is a forgettable film that fails to leave a lasting impression.