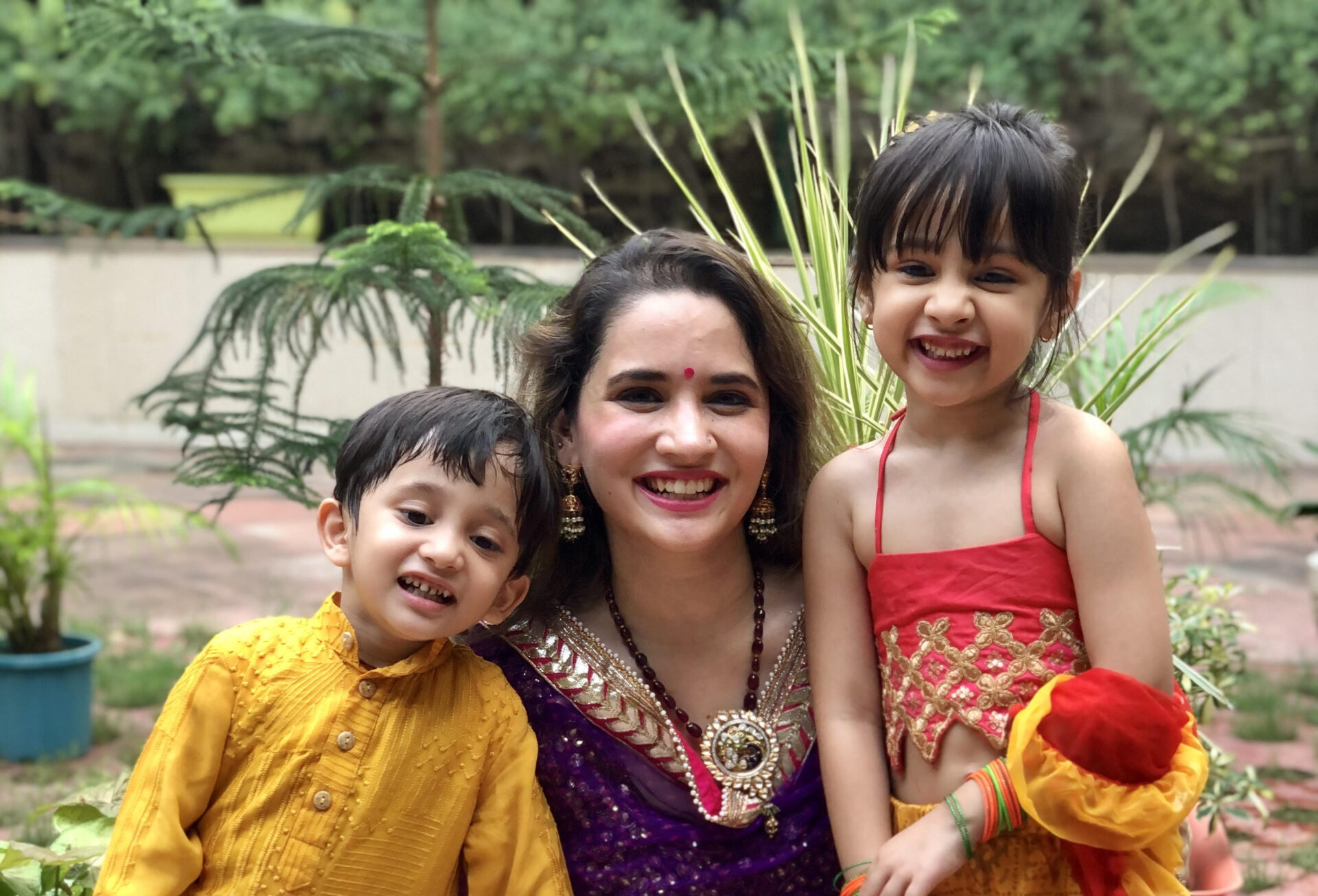 Mom and Lifestyle Blogger-Harshita Modi
The Journey
"My blogging journey started four years ago when I began posting photos and videos of my daughter. A journey full of love, growth, learning, adventure, experiences, and a lot of ups and downs, #cutecontent is an exceptional adventure that has been unstoppable ever since.", Harshita, mom of super mischievous kids Anayta and Anant and a Mom & lifestyle blogger shares her blogging story.
Inspiration
Harshita had always loved being creative. She had a calling towards the activities that required her to think a little out of the box and be expressive. "Blogging was slightly different but it required me to be creative. I love creative challenges and find a way to express my creative side by overcoming them.", she says. "As a blogger, I seek inspiration from everything around me. A celebration at home, kids learning something new, getting creative for festivals, dressing up, etc. the list is a non-exhausting one."
Like all kids, Anayta, Harshita's daughter, is extremely talkative, expressive, and naughty and like all parents who love to record special moments of their kids, Harshita enjoyed making videos of her daughter. "Honestly, there was no inspiration or intention to be a mom blogger. We thought of sharing her innocent and adorable videos with the world, so I created a page on Instagram.", she says.
Role Model
"My role model is my mother. I grew up watching her charismatic personality. She's loaded with love and enthusiasm which helped in shaping my personality a lot. I tried to learn a lot from her, 'how to wake up every day with a smile, no matter how difficult or hectic the day ahead might be; spreading selfless love and smiles'. And I wish to achieve that someday."
Life of a blogger mom
"Being a mother brings responsibilities. It is not an easy job but I am getting the hang of it as I go.", she says. "Our family shares an amazing bond where everyone gets all the help and understanding one needs." Harshita's family has always been supportive which allows her to create content easily and carry on with the blogger part of her life. "Blogging is an inseparable part of my life and with the support of my family, everything becomes easy and beautiful."
Sometimes, Harshita experiences certain episodes of stress and demotivation that, she believes, are part of her lifestyle. "I feel stressed and demotivated sometimes. It's all part of being a social media personality. Taking a break, going for drives, sneak in some 'me time' helps through those moments. I must say, give yourself, your body, and your mind the time it deserves to refuel and relax." Being a creative blogger, Harshita keenly engages her followers by posting fresh content regularly.
She keeps herself updated with the trends, and appreciates the time and effort that her followers spare to like, comment, and share #cutecontent's posts. "My mantra is to be real, be yourself, and be consistent.", she shares what she believes and preaches.
Most loved content
The blogger talks about two posts here, one is very close to her heart and the other is relatable to every mother.
"Anayta & Anant's last year's rakhi video is the most adorable video." The kiddos looked so happy and cute. They loved dressing up and posing for the video. Harshita was also amazed by the way the video turned out and was loved by her followers.
The other one is a funny video depicting the struggle of feeding your kids. "I feel, the video was quite relatable to all parents. I got so many DMs and comments on that post. Everyone was like 'story of our lives' or 'so relatable'. People liked it because everyone loves and enjoys content they can relate to and it's good to know you are not the only one dealing with this and just be able to laugh about it."